SOLD OUT: IN PERSON: Members Only Pentagon Tour
Join Marine Corporal David Ulicki for a very special Election Day tour of the Pentagon
Date: Tuesday, November 8th, 2022, 10:30am ET
Location: Pentagon Visitor Center Desk, adjacent to the Pentagon Metro stop.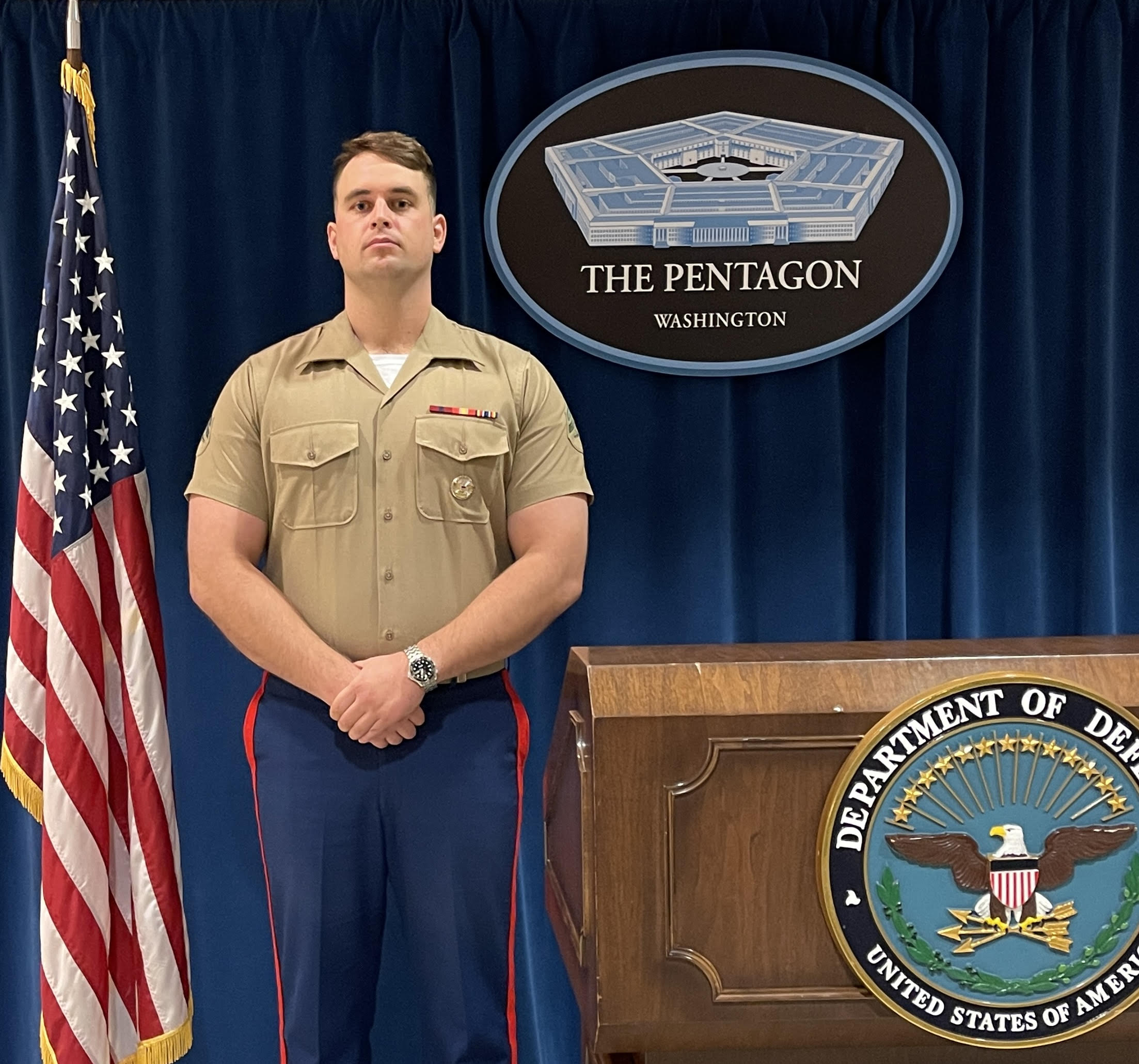 We are delighted to announce that a good friend of the Harvard Club of DC, Marine Corporal David Ulicki, has offered our members the opportunity to tour of the Pentagon.
David Ulicki serves as a Corporal in the Marine Corps and is stationed at the Pentagon attached to the Public Affairs office of the Office of the Secretary of Defense. An infantryman by trade, David was given orders to Marine Barracks Washington, DC after graduating top of his class from infantry training at Camp Pendleton, California. During his time in Washington, he has worked at the White House, Arlington National Cemetery, Langley, and the Defense Intelligence Agency. David studied history at UC Berkeley and wrote his senior thesis on "The Constitutionality of Secession and the Federal Suspension of Habeas Corpus During the American Civil War." Following his service, David intends to enter the professional world of real estate development and will be pursuing a master's degree in real estate from Georgetown University.
IMPORTANT INFORMATION: This tour is very limited in availability - only 20 spots are available. All attendees must be US Citizens. When you RSVP, you must include the full name and birth dates of all members of your party. Each adult attendee must have a valid government-issued photo ID with them. The tour departs the Visitor Center at 11am, but visitors must arrive no later than 10:45am to be scanned for security, and we strongly suggest you be there at 10:30am, to ensure you have enough time. Sign-ups for this tour will close NO LATER THAN 11:59pm on Sunday, October 23rd, 2022, to allow time for the Pentagon to perform their required security checks, and may fill up significantly before that.
How to get there: Pentagon Metro stop on the Blue and Yellow lines. There is no parking at the Pentagon. Visitors can park at the Pentagon City Mall and take the pedestrian tunnel, which is across the street from Macy's. Leave ample time to make the walk to the Visitor Center.
Vaccination/Safety Requirements: All registrants are required to be vaccinated. Please be prepared to provide proof of vaccination on site. If you have recently tested positive or have symptoms, please do not attend this event. The Club encourages attendees to wear masks indoors when not eating or drinking, especially when social distance cannot be maintained.
Fee: Harvard Club Members: FREE