[IN PERSON] 2022 Gridiron Sunday Reprise



Ready for some clever political satire set to your favorite tunes? Come experience the iconic Washington event – the annual Gridiron Show.



Date: Sunday, April 3, 2022, 12:00 - 3:00 pm ET
Location: Washington Renaissance Hotel, 999 Ninth Street NW, Washington, DC 20001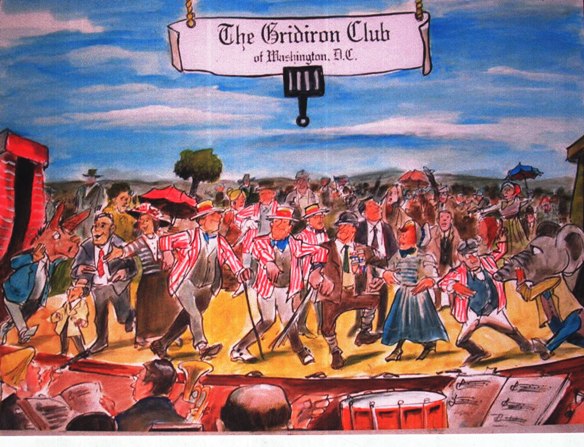 Get ready for some much-needed comic relief! We are offering you an opportunity to experience an iconic Washington event – the annual Gridiron Show. For more than 130 years, the show has merged political satire with your favorite tunes, and skewered the nation's top political candidates and journalists, congressional leaders and Presidents and has been a Washington tradition since 1885!

The Gridiron Club and Foundation first regales official Washington at a white-tie dinner with satire and songs. The next day, the club puts on another performance – known as the Gridiron Sunday Reprise - for associations, alumni groups, friends and family.

The program features Gridiron members — including well-known faces that might include Jonathan Karl of ABC News, Andrea Mitchell and Chuck Todd of NBC, Judy Woodruff of PBS and Bret Baier of Fox News — performing hilarious songs and skits in costume. Syndicated columnist Mark Shields relays highlights of the speeches that were delivered the night before, which typically include remarks by the President and a leading Democrat and leading Republican. Running the musical performance is the director of the United States Marine Band, Lt. Col. Jason Fettig, the Club's musical director.

COVID RESTRICTIONS: You must show your vaccination card and a matching ID to enter the reception and show. We are selling fewer tickets this year to allow for a bit more spacing between seats. All guests must wear masks while watching the show. Feel free to skip the reception area, where people will be drinking beverages, and go straight to the ballroom where masks are required. We ask that you please stay home if you are experiencing any virus symptoms.

Reception: 12:00 pm (open bar and beer and wine)
Show: 1:00 pm (the program will end by 3:00 pm)
Dress: Business casual

Fee:
Harvard Club members and their guests: $75.00
Nonmembers: $80.00

Tickets will be distributed in the hotel lobby beginning at 11:45 am. Those not retrieved by 12:45 pm will be left at Will Call.

When:
12:00PM - 3:00PM Sun 3 Apr 2022, Eastern timezone

Where:
Renaissance Washington, DC Hotel
999 Ninth Street, NW
Washington, DC 20001 USA
[ Get Directions ]