IN PERSON: Bird Banding Nature Hike
Join the HCW for a rare opportunity to watch wild migratory birds be banded for research
When: Friday, May 5th, 2023, 7:00am-12:00pm
Where: Occoquan Bay NWR Visitor Center, 14050 Dawson Beach Rd., Woodbridge, VA, 22191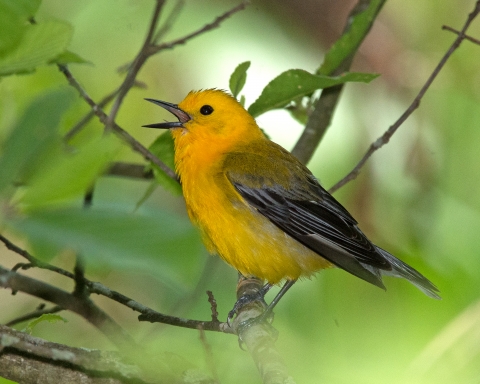 Rare bird-banding opportunity and a roughly 4.5-mile nature hike at the Occoquan Bay National Wildlife Refuge. First, we'll attend a migratory bird banding where we can hold a wild bird to release it after the experts have banded. Even if there aren't enough birds to go around, we'll still learn why sunshine-yellow warblers and other perching migratory and resident birds are banded and how they capture them and band their teensy legs. After the banding, we'll hike roughly 4.5 miles (total) at a moderate pace with many stops on some of the 642-acre refuge's flat, dirt trails along Occoquan and Belmont bays, pausing for discoveries, such as bald eagles, ospreys, prothonotary warblers, spotted turtles, wildflowers, fungi, and slinky snakes.
Meet: In front of Occoquan Bay NWR's new visitor Center, 14050 Dawson Beach Rd., Woodbridge, VA. (Marked with red star on our map.) It will be closed then so we'll use restrooms en route to banding. Click here for directions via Google Maps. Closest train: VRE Woodbridge.
Weather Policy: Rain or high wind cancels banding. However, the hike will still proceed if the forecast is just for scattered showers or light rain. Leader will email participants with any changes by 6 p.m. the day before the hike. Adults only. Restrooms at the start and at the banding, but NOT on the far side of the refuge.
Bring/wear: Bring a mask for banding, water, snack, and fully charged cell phone. Wear shoes suitable for muddy trails. Optional: Long pants and bug spray for possible ticks, sunblock, hand wipes, hat, binoculars, and camera. (Tip: learn "slo-mo" & burst modes on your iPhone before the hike.)
Fees: $5 per person.
Covid-related Safety Requirements: If you have recently tested positive or have symptoms, please do not attend this event. If you are ill, please notify us prior to the start of the event and we will be happy to credit your ticket payment to a future event. The Club encourages everyone to be vaccinated and boosted, and to wear masks indoors when not eating or drinking, especially when social distance cannot be maintained.