IN PERSON: Crimson Men's Lacrosse Takes On the Tar Heels in the Bob Kemp Classic
Join us at Georgetown Prep as Harvard plays North Carolina
Date: Saturday, October 9th, 2022, 1:00pm
Location: Georgetown Preparatory School, 10900 Rockville Pike, North Bethesda, MD 20852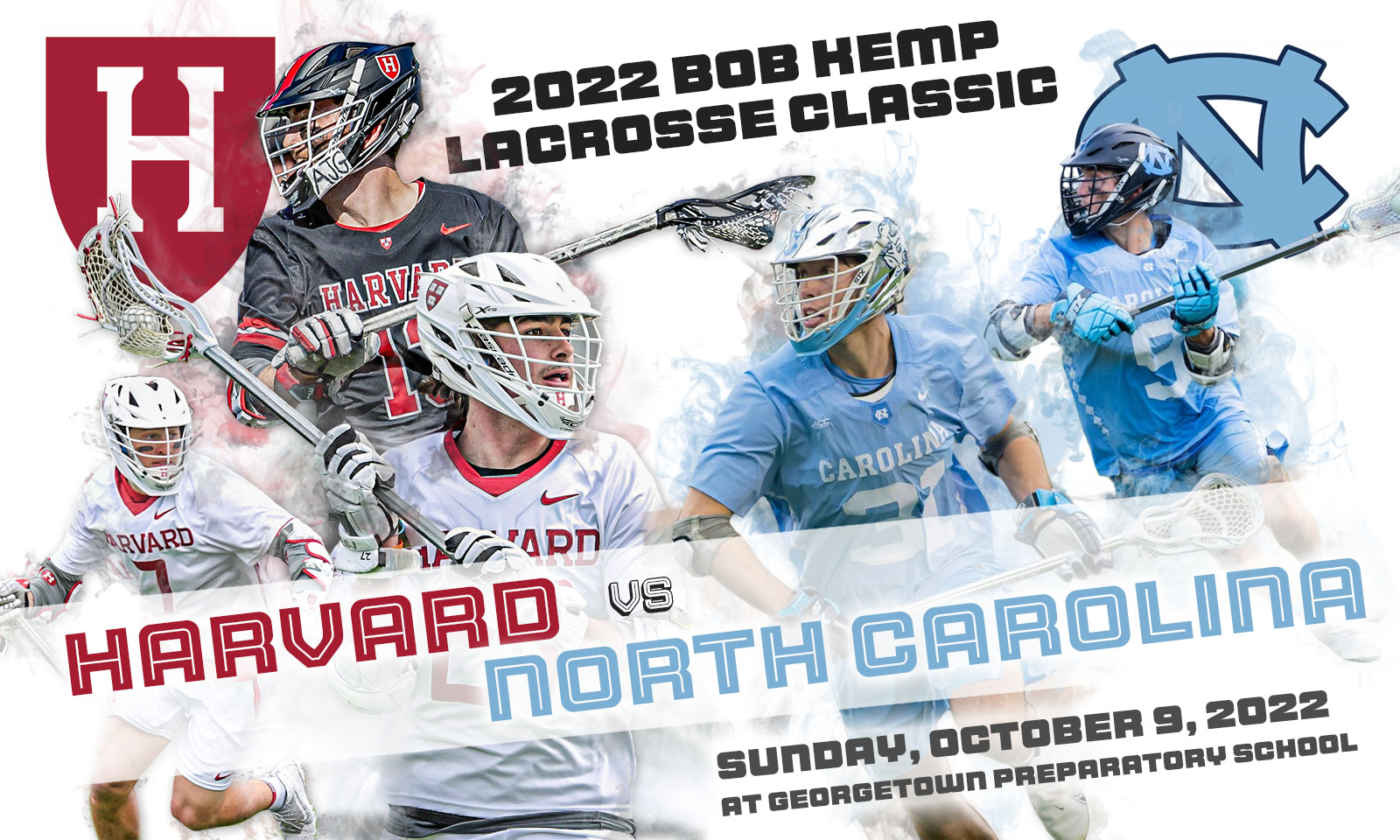 We're happy to announce that the Harvard Men's Lacrosse Team has been chosen as one of the competitors in this year's Bob Kemp Classic match! The Crimson team is currently ranked 15th nationally, ahead of the number 19 UNC team, and we anticipate an exciting game.
The match honors the legacy of DC local Bob Kemp, a devoted family man and father of seven (three of whom played Division I college lacrosse). Following his death in 2014, his loved ones created the Classic as a way to memorialize their father's love of the sport, as well as to fund a scholarship for the Washington Jesuit Academy. Harvard Lacrosse Head Coach Gerry Byrne describes the match as "a tremendous opportunity to honor the legacy of a great man while immersing our student athletes in the mission of this eventand exposing them to the beauty of our Nation's Capitol."
The lacrosse team will be in town for the weekend preceding the game, and are hoping to do a "speed mentoring" event with Harvard Club members on the morning of Saturday, October 8th. If interested, please contact Julia Cain at julia@harvard-dc.org to participate.
Fee: FREE!
Vaccination/Safety Requirements: All registrants are required to be vaccinated. Please be prepared to provide proof of vaccination on site. If you have recently tested positive or have symptoms, please do not attend this event. The Club encourages attendees to wear masks indoors when not eating or drinking, especially when social distance cannot be maintained.
Click here to RSVP!
When:
1:00PM - 4:00PM Sun 9 Oct 2022, Eastern timezone

Where:
Georgetown Preparatory School
10900 Rockville Pike
North Bethesda, MD 20852
[ Get Directions ]