IN PERSON: Looking Up with Weatherman Matthew Cappucci AB '19



Join us and the youngest person nationwide to work in the top-ten TV market as an on-air meteorologist for drinks and dinner.



Date: Tuesday, June 21, 2022 at 6:30 - 8:30pm ET
Location: Hogan Lovells, 555 13th Street, NW (Metro Center), Washington, DC 20004

Vaccination required. Per the venue's policy, all guests must be fully vaccinated to enter and must provide proof of vaccination upon arrival at the lobby reception desk.

Matthew Cappucci is an atmospheric scientist and meteorologist who works in TV, radio, print and digital media. Making a career out of what happens in our skies, Matthew delivers forecasts on FOX5 in Washington D.C. He also works for The Washington Post, WAMU, the local NPR affiliate and MyRadar, an app based in Florida.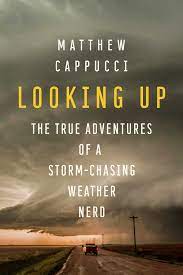 Matthew is an avid storm chaser, world traveler and adventurer. He has chased more than a dozen tornadoes, stood in the eye of a hurricane, flown beneath the northern lights and driven a UHaul van through the Arctic tundra. He's also an "umbraphile," traveling thousands of miles every few years to stand in the shadow of the moon during total solar eclipses. His truck looks like a dimpled golf ball from all the times it's been pelted by softball-sized hail. His book "Looking Up" will be published and released in August. He makes frequent appearances on international television outlets.

Matthew was born on Cape Cod, Massachusetts and attended Sturgis Charter Public School in Hyannis, where he earned an International Baccalaureate diploma. At Harvard University, he designed his own atmospheric sciences major through cross-enrollment at MIT.

This event will begin with weather-themed drinks and a full dinner.
Menu
Tropical Grilled Salmon
Topped with a pineapple- soy glaze
Tsunami Roasted Chicken GF
Sunny Succotash
Cloud Potatoes
Hurricane strawberry pecan salad
Specialty Drink

Fee:
Harvard Club Members and Barnard in Washington Members
and their Guests - $55
Nonmembers - $75