[VIRTUAL] Cherry Blossom Docent-led Tour



Join us as we go cherry blossom viewing! This event is limited to Harvard Club Members and their guests.

Date: Tuesday, April 5, 2022 at 4:30 - 5:30pm ET
Location: Virtual via Zoom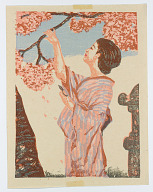 The revered sakura, or cherry blossom, has been celebrated in landscapes, figure paintings, and prints by artists from medieval Japan to Katsushika Hokusai and beyond. Long after the cherry blossoms fall in Washington, DC, you are invited to embrace hanami, the traditional Japanese custom of "flower viewing," by going cherry blossom viewing in the museum's Japanese art collections!

The Freer Gallery of Art and Arthur M. Sackler Gallery, the Smithsonian's National Museum of Asian Art, are located on the National Mall in Washington, DC. Committed to preserving, exhibiting, and interpreting exemplary works of art, the National Museum of Asian Art addresses broad questions about culture, identity, and the contemporary world. The museum cares for exceptional collections of Asian art, with more than 45,000 objects dating from the Neolithic period to today and originating from the ancient Near East to China, Japan, Korea, South and Southeast Asia, and the Islamic world. Nearly a century old, the Freer Gallery of Art also holds a significant group of American works of art largely dating to the late nineteenth century. It houses the world's largest collection of diverse works by James McNeill Whistler, including the famed Peacock Room.

Fee: Limited to Harvard Club Members an their Guests