May 15th: SOLD OUT: IN PERSON Spies of Georgetown Walking Tour with Club Member S. George Imredy '90 - Limited to Members and their Guests



This 1.5-hour walking tour will begin under the bell at the Entrance to Oak Hill Cemetery and finish at Martin's Tavern in time for an optional Spytini cocktail and perhaps lunch.



Date: Sunday, May 15, 2022 at 10:30am -12:00pm ET
Location: Bell Tower at Oak Hill Cemetery, 3001 R St NW, DC, 20007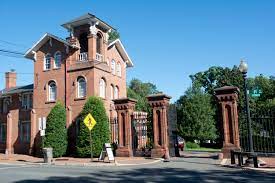 Enjoy a walk through the scenic Georgetown neighborhood with a former CIA officer. Learn about the role the residents here played in the WWII era. These pre- and post- war influencers played friend and foe alike to the Soviets. Learn more about the origins of the CIA, and the life of an operative shared through curated (and unclassified) real-life stories. We'll visit the former homes of William "Wild Bill" Donovan, William Colby, Roald Dahl, and Alger Hiss and see places linked to the espionage activities of Elizabeth Bentley, and Vitaly Yurchenko.

Along the way, participants will be asked to put on their spy hats and consider the role of surveillance in an operative's daily life.

Meet Up Instructions
We will meet outside the entrance of Oak Hill Cemetery. Look for the bell tower. Your contact will be wearing a baseball cap and carrying a Washingtonian magazine in his right hand. He will approach you and ask, "do you know if there is a post office near here?" and you should reply, "I believe there is, but it is closed for construction." If someone approaches you without these correct paroles (code words), you SHOULD NOT ENGAGE with him.

Parking
There is four hour metered parking in front of the Georgetown Neighborhood Library, or a garage at Georgetown Park. Otherwise, there is 2 hour off street parking during the week and no off street time limit on Sundays. Please give yourself time to get to our kick-off point. Our starting location is a circa 15 minute walk from the Dupont and Foggy Bottom metro stations.

Safety
COVID-19: Masks are optional for vaccinated participants. We will practice social distancing throughout the tour. Please do not come if you have symptoms consistent with COVID-19, or have been in contact with someone who has tested positive for COVID-19 in the last 10 days.

Dress
Wear comfortable shoes and bring water as well as hat, scarf and gloves as needed.

Other
There are no bathroom breaks on this tour. Please plan accordingly. Participants are encouraged to make their own reservations with the restaurant.

George Imredy (AB 1990) is a former Senior National Security Officer with 30 years of experience with the Central Intelligence Agency, Department of State, and as a Military Intelligence Officer in the United States Army. He served multiple assignments in Central Europe, Eastern Europe, and South Asia leading intelligence collection operations. He also led the CIA's advanced tradecraft school and worked in the CIA's Counterintelligence Center.

FREE for Harvard Club Members and their Guests