[VIRTUAL] "We Are So Much More: Integrating the 7 Dimensions of Success for Women Leaders to Thrive at Work and in Life – Book Talk with Author Aster Angagaw"



Succeeding in business and in life as a woman is a challenge. Many women, especially women of color, have sacrificed relationships, interests, personal growth, and even their health to advance their careers.



Date: Tuesday, February 22, 2022 at 6:00 - 7:00pm ET
Location: Virtual via Zoom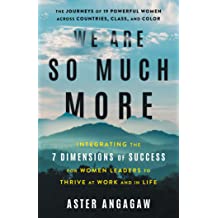 We Are So Much More features eighteen other remarkable female executives across ten countries from Africa, Asia, Europe, North America, and South America—global leaders from Adidas, Herman Miller, Mars Inc., Amgen, Sodexo, CBS, General Electric, and more. All share their stories and speak openly about their choices, setbacks, and regrets.

This book integrates these amazing stories, including Aster's own, and distills their collected global wisdom around seven essential dimensions that hold the key to having it all. Across countries, class, and color, when we live with intention, We Are So Much More.

Aster Angagaw is an Ethiopian-American Black woman who put herself through college and eventually became CEO of Healthcare North America at Sodexo and then President of ServiceMaster Brands—both multibillion-dollar companies. She is the seventh of ten children, born and raised in Ethiopia during a time when her parents faced tremendous struggles. In the face of many challenges, her mother, whom her children lovingly called Etaba (meaning "big sister"), was the glue that held the family together. Aster shares Etaba's profound wisdom throughout this book. Through hard work and her mother's inspiration, Aster continued her lifelong journey for growth, earned a BA in organizational management from Eastern University and an executive MBA from Temple University, and became a graduate of the Harvard University Advanced Management Program. Today, she has more than twenty-five years of senior leadership experience in global multibillion-dollar corporations.

Fee:
Harvard Club Members and their Guests: Free
Nonmembers: $15