[VIRTUAL] Uncovering Jerusalem's Buried History with author Andrew Lawler



"Under Jerusalem" will take us into tombs, tunnels and trenches of the Holy City --- a Saga of Biblical Treasures, intrepid explorers and political unheaval.



Date: Monday, December 13, 2021 at 6:00 -7:00 pm
Location: Virtual by Zoom.
FREE for everyone
The Barnard (BIW), Columbia and MIT Clubs will join us.
Sacred to three faiths and revered by more than half the people on the planet, Jerusalem conjures up powerful images of the celestial. Yet beneath its narrow alleys and holy places, the ancient city conceals a labyrinthine, three-dimensional time capsule recording five millennia of bustling prosperity, brutal war, and repeated religious innovation that altered the course of human history.

Since the days when Abraham Lincoln was in the White House, adventurers, archaeologists, and religious zealots have flocked here to hunt for buried treasure, unearth sacred artifacts like the Ark of the Covenant, and find proof of the Bible's veracity. That digging to reveal the past continues today—and, in so doing, continues to alter the city's future.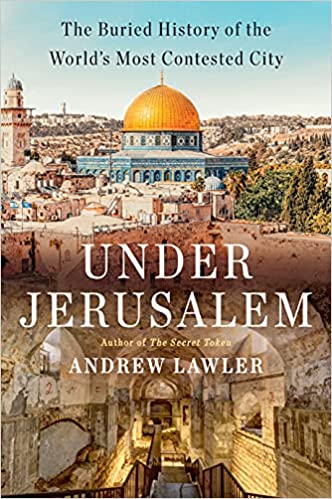 Andrew Lawler was a Knight Science Journalism Fellow in 1998-1999, a joint Harvard-MIT fellowship. It was a Harvard course then in archaeology that launched him into archaeology reporting in the Middle East.

He is author of three books, Under Jerusalem: The Buried History of the World's Most Contested City, The Secret Token: Myth, Obsession, and the Search for the Lost Colony of Roanoke, a national bestseller, and Why Did the Chicken Cross the World?: The Epic Saga of the Bird that Powers Civilization. As a journalist, he has written more than a thousand newspaper and magazine articles from more than two dozen countries. His byline has appeared in The New York Times, The Washington Post, National Geographic, Smithsonian, and many others. He is contributing writer for Science and contributing editor for Archaeology. Andrew's work has appeared several times in The Best of Science and Nature Writing.

Link to purchase book: https://www.penguinrandomhouse.com/books/665396/under-jerusalem-by-andrew-lawler/
For more stories/books from Andrew: www.andrewlawler.com