SOLD OUT!/Strategic Competition and the Military Instrument of National Power with General Hyten AB '81

A Dinner Conversation with U.S. Air Force General John E. Hyten AB '81, Vice Chairman of the Joint Chiefs of Staff. This in-person event is hosted by Harvard Veterans Alumni Organization (HVAO) and includes a full 3-course dinner preceded by a cash bar in the Grand Salon of Brasserie Liberté.

The Harvard Veterans Alumni Organization DC Chapter requests that upon registration you provide proof of Covid Vaccination or a negative Covid test taken within the previous 72 hours in order to attend this event.

Please join us from 6-8:30pm on Tuesday, October 5 at Brasserie Liberté for dinner and an off-the-record discussion with Gen John Hyten, AB '81, about U.S. strategic competition, the military instrument of national power, and the value of service during increasingly complex and consequential times. Catherine Herridge, AB '87, CBS News senior investigative correspondent, will moderate. Hosted in conjunction with the Harvard Veterans Alumni Organization DC Chapter, this in-person event will honor the "long Crimson line" while connecting the broader Harvard community with its veteran alumni in the context of important national security issues.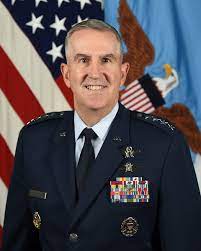 Gen. John E. Hyten serves as the 11th Vice Chairman of the Joint Chiefs of Staff. In this capacity, he is the nation's second highest-ranking military officer and member of the Joint Chiefs of Staff. General Hyten attended Harvard University on an Air Force Reserve Officer's Training Corps scholarship, graduated in 1981 with a bachelor's degree in engineering and applied sciences, and was commissioned a second lieutenant. General Hyten's career began in engineering and acquisition before transitioning to space operations. He has commanded at the squadron, group, wing, and major command levels. In 2006, he deployed to Southwest Asia as Director of Space Forces for operations Eduring Freedom and Iraqi Freedom. He commanded Air Force Space Command, and prior to his current assignment, was the Commander of U.S. Strategic Command, one of eleven Combatant Commands under the Department of Defense.
***As a supplemental pandemic risk mitigation measure, the Harvard Veterans Alumni Organization DC Chapter requests that, upon arrival at the event, you provide proof of Covid vaccination or a negative Covid test taken within the previous 72 hours. We will not issue refunds unless we have to cancel.***

Date: October 5, 2021
Time: 6:00-8:30 pm
Location: The Grand Salon at Brasserie Liberté
Parking: 3251 Prospect Street NW, underground garage, Fee: $6
Cash Bar: Guest's responsibility
Ticket Price: The cost is $50 per person including gratuity and tax for Harvard Club Members, HVAO and guests and $60 for nonmembers.

Registration closes at midnight on Tuesday, September 27.
Dress code: civilian business casual (jacket, no tie)

Menu:
First Course: Liberté Salad with tomatoes, lettuce, chickpeas, blue cheese, croutons, house vinaigrette (V)
Second Course Choices: Roasted Half Chicken: Mélange of Root Vegetables, Leek Soubise, Pommes Puree, Jus de Poulet OR Trout Amandine: Haricots Verts, Almonds (GF) OR Ratatouille Provencal: Pommes Anna, Ricotta Stuffed Squash Blossoms, Pickled Beech Mushrooms, Saffron Pickled Cauliflower, Tomato Consomme (V,GF)
Dessert: Flan A La Vanille

House red and white wine will be available at $11. a glass.
If you do not select a main course, you will be served chicken.

If you would like to submit a question to General Hyten, please email it to: caren@harvard-dc.org.