[VIRTUAL] The Climate Boot Camp
The Climate Boot Camp is a five - session online program that runs October 14th - 28th, see registration link: https://www.mythouse.org/climatebootcamp.

The Harvard Alumni for Climate and the Environment Shared Interest Group (HACE) has developed an educational program, The Climate Boot Camp, which launches in October. The program is designed for leaders who are deeply concerned about the climate crisis and want to know more about proven strategies, approaches and tools that support win-win action plans and help drive organizational change.

HACE Programming Director Eleanor Powers '81, says: "We think this program is deeply relevant for alumni looking to lead the way to a sustainable future with the organizations where they have influence, whether it's a startup, a Fortune 500 company, a place of worship or a public school board. In addition to caring for our planet, sustainability can provide opportunities for improved financial performance, product and service differentiation, and can be important for attracting and keeping employees. The registrations we have to date demonstrate a wide range of interest from alumni in private companies, non-profits and public sector organizations, with titles ranging from CEO, board member, director to analyst, volunteer, and intern."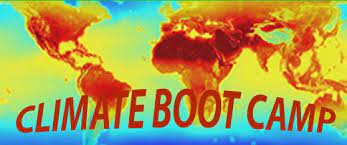 THE CLIMATE BOOT CAMP
Open Registration Has Begun!
Join hundreds of Harvard alumni who have already signed up to participate!

The Climate Boot Camp is a training initiative created by the Harvard Alumni for Climate and the Environment (HACE) shared interest group and Former U.S. Vice President Al Gore's The Climate Reality Project. See registration for the full schedule.

Please Register Now: https://www.mythouse.org/climatebootcamp
Training Session dates and times:
Thursday, October 14, 8:00 - 9:30 PM ET
Tuesday, October 19, 8:00 - 9:30 PM ET
Thursday, October 21 8:00 - 9:30 PM ET
Tuesday, October 26, 8:00 - 9:30 PM ET
Thursday, October 28, 8:00 - 9:30 PM ET