[VIRTUAL] International Trade: Where do we go from here?
How should the United States develop a future-looking international trade policy that meets current challenges? An all-star panel moderated by Ambassador Cathy Novelli will discuss how to deal with a rising China and a restless Russia. At the request of panelists, this event will be off the record. Before characterizing or attributing the remarks of any speaker, please reach out to that person and obtain permission.
COVID, the rise of China, the relocation of manufacturing jobs in

the Midwest and a palpable lack of public support for traditional post- World War II free trade policies, among other things, have resulted in a rethink of U.S. international trade priorities. We have tried everything from free trade agreements, global supply chains, and free capital movements, to tariff walls and natio

nal security protections.



How should the U.S. meet the challenges we currently face and develop a future-looking policy? Some would like to see the us go back to full-blooded support for global free trade, including free trade agreements, free capital movements, and support for global supply chains. Others would like to see global supply chains replaced with domestic supply chains and a new emphasis on industrial policy. Still others want to make sure that trade policy enhances environmental protection and ensures workers worldwide a living wage. Big questions in this debate include: how does America best face the challenge of a rising China and a restless Russia? How does the U.S. keep from falling behind in the battle for global technological leadership? And what about the developing world?

The Harvard Club of Washington D.C. is hosting a panel discussion to explore these issues. The discussion will be moderated by Catherine Novelli, Undersecretary of State for Economic Growth, Energy and the Environment in the Obama Administration, and former Vice President of Worldwide Government Affairs at Apple.
---
Moderator: Cathy Novelli & Panelists: Kira Alvarez, Jeff Ferry, Adam Posen, and Clyde Prestowitz




Ambassador Catherine A. Novelli served as Under Secretary of State for Economic Growth, Energy, and the Environment (2014-2017). She is currently a Senior Advisor at the strategic consulting firm, Shearwater Global, and serves as President of Listening for America, a non-partisan, non-profit organization dedicated to fo

rging a new vision of U.S. international trade engagement. In addition, Ambassador Novelli is an adjunct professor at Georgetown University and

a non-resident Fellow at the Center for New American Security. Ambassador Novelli spent seven years as Vice President, Worldwide Government Affairs at Apple Inc and had a long career at the Office of the U.S. Trade Representative, rising to Assistant U.S. Trade Representative for Europe & the Middle East.














Kira Alvarez is Vice President of Government Relations at ViacomCBS. Before joining Viacom CBS, Ms. Alvarez served as Deputy Assistant U.S. Trade Representative for Intellectual Property and Chief Negotiator for IP Enforcement, in the Obama Administration, responsible for bilateral IP negotiations between the U.S. and China, and served as the U.S. co-chair of the IP Committee of the U.S.-China Joint Commission on Commerce and Trade (JCCT). She negotiated the IP chapters of several US Free Trade Agreements, including those with Chile, Central America (CAFTA) and Morocco.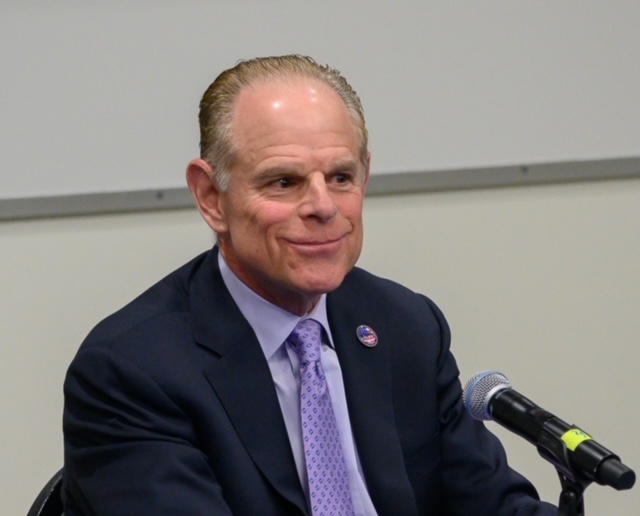 Jeff Ferry is chief economist at the Coalition for a Prosperous America. The Coalition is a bipartisan group of U.S. manufacturers, labor unions, and family farm groups focused on rebuilding U.S. manufacturing and restoring broadly-based U.S. prosperity. In 2019, Ferry's economics team won the Mennis Award from the National Association of Business Economists for a paper showing how a uniform 25% tariff on U.S. imports from China would increase U.S. economic output. Prior to joining CPA, Ferry was a marketing executive at Silicon Valley technology companies including Bay Networks, Nortel, and Infinera. Ferry is the author of one book, The British Renaissance, about outstanding British companies. He received an AB from Harvard College and a Masters Degree in Economics from the London School of Economics.






Adam Posen is president of the Peterson Institute for International Economics. Under his leadership, since January 2013, the Institute has grown to 42 world-renowned fellows and won global recognition – including being named North American Economics Think Tank of the Year by Prospect five years in a row (2016 thru 2020). From 2009 to 2012, Posen served as an external voting member of the Bank of England's rate-setting Monetary Policy Committee (MPC). Posen served seven terms on the Panel of Economic Advisers to the U.S. Congressional Budget Office (2005-19). In April 2021, Foreign Affairs published his article, "

The Price of Nostalgia: America's Self-Defeating Economic Retreat

," where he provides an analysis of U.S. retreat from globalization. He received his AB and PhD from Harvard University.






Clyde Prestowitz is the author most recently of the book: The World Turned Upside Down: America, China and the Struggle for Global Leadership. He served as Counselor to the Secretary of Commerce in the Reagan Administration where he led trade negotiations with Japan, China, and South Korea. He was also a leader of the first U.S. Trade Mission to China in 1982. He was appointed Vice Chairman of the Clinton administration's Commission on Trade and Investment in the Asia-Pacific Region. He founded the Economic Strategy Institute, served as an advisor to corporations such as Intel, FedEx, and Ford Motor Company, and is the author of nine books on trade and competitiveness.
---
Date: Wednesday, September 22, 6:00-7:00PM EST
Fee: Harvard Club Members FREE; Nonmembers $15