August Happy Hour Reception Hosted by the University Club of Washington, DC and Limited to Members of the Harvard Club
All Harvard Club Members are cordially invited to this special reception.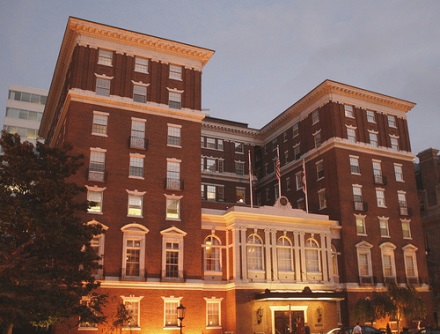 Thursday, August 12, 2021
6:30 p.m. to 8:00 p.m.
Roof Top of The University Club of Washington, DC
(Please note the roof is accessible only via a steep staircase from the 7th floor of the University Club.
Women must not wear high heels, only wedges, low and/or chunky heels are permissible to protect historic flooring)
1135 16th St. NW
Washington, DC 20036
If you wish to stay for dinner, the Club will allow nonmembers of the University Club to dine in the Grill Room paying with a credit card.
Connect with fellow Harvard alumni. Learn more about the joint membership opportunity between the Harvard Club and the University Club of Washington, DC.

No charge for drinks, Hors d'oeuvres and Clubhouse tours will be offered.



There is no registration fee; however, you must register in advance by clicking the button below. Limited spots are available.
Dress code: Business attire. No denim or athletic shoes. Coats and ties for gentlemen.
Valet parking is available for $14 (for up to 2 hours) to $19 (2 to 5 hours)