Radcliffe DaY 2021 (May 28, 2021)
Please Join Us for this Special Day and Celebration!
Harvard Radcliffe Institute will award the Radcliffe Medal to Melinda Gates.
2021 Medalist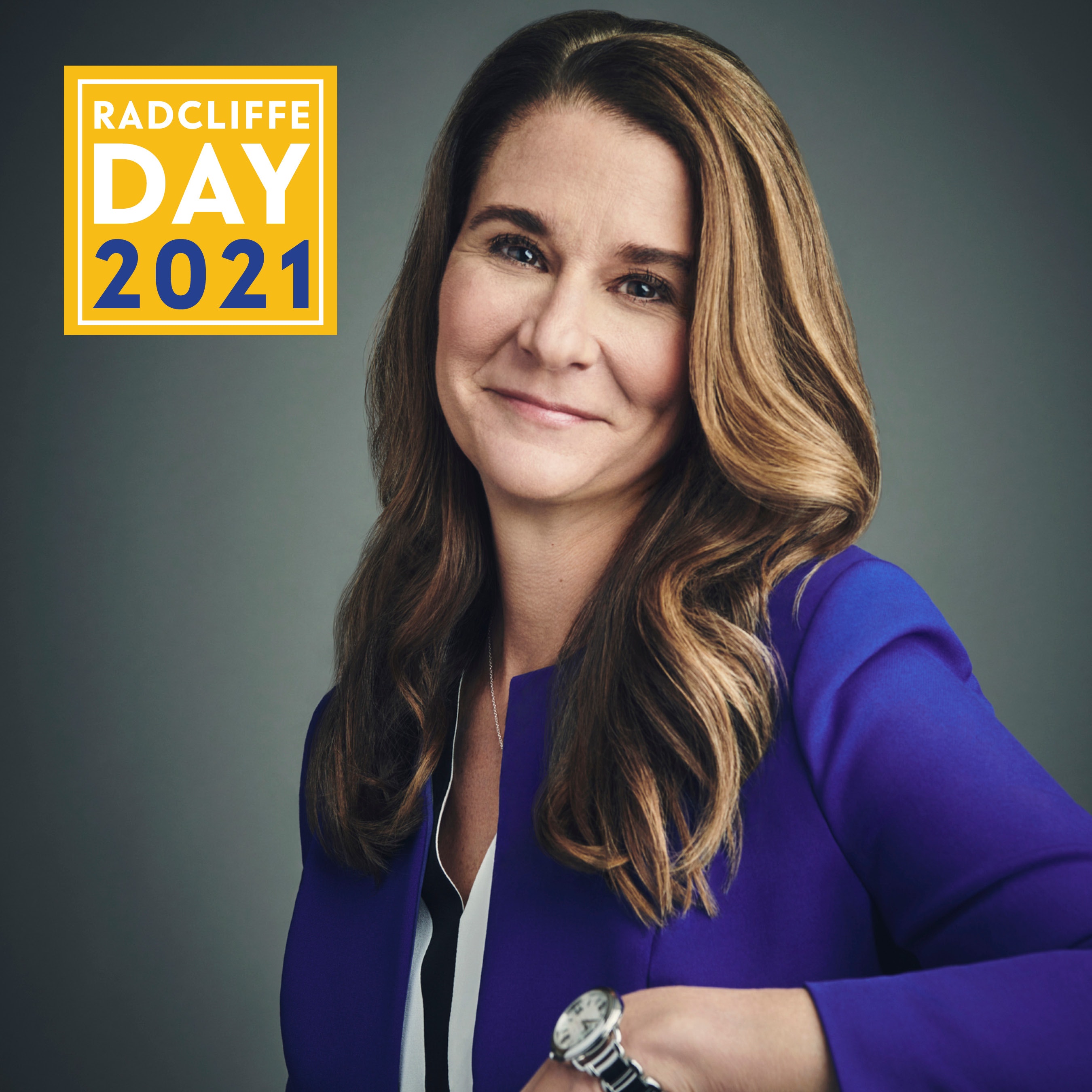 The philanthropist, businesswoman, and best-selling author Melinda Gates is a global advocate for women and girls. As cochair of the Bill & Melinda Gates Foundation, she sets the direction and priorities of the world's largest philanthropic organization and has led the foundation to focus increasingly on improving the lives of women and girls to achieve broad positive change.
In order to accelerate social progress for women and families in the United States, Gates also created Pivotal Ventures, an investment and incubation company that in 2019 committed an unprecedented $1 billion to expand women's power and influence over the next decade.
When Melinda and Bill Gates established their foundation 20 years ago, their core principle was that every person deserves the chance to live a healthy and productive life. Under their leadership, the foundation worked to tackle complex challenges from extreme poverty and poor health in developing countries to failures in America's education system.
As Melinda Gates traveled to some of the world's poorest places, she came to understand more deeply that no matter where in the world you are born, your life will be harder if you are born a girl. Gates explains, "Sitting down with women around the world to hear about their lives changed everything for me. Their stories called me to action."
But that was not all. She witnessed firsthand what global data confirm: investments in women are a powerful lever to drive societal change. Gates directed the foundation to develop and implement strategies that prioritize gender equality, including closing data gaps, strengthening advocacy, and supporting women's economic empowerment. She focused global attention on the fact that investing in women generates significant benefits for families and communities: "No society can achieve its potential with half of its population marginalized and disempowered. To reach our goals, we must put women and girls at the center of what we do."
In 2019, Gates announced her $1 billion commitment through Pivotal Ventures to expand women's power and influence in the United States, writing, "For most of our history, women's absence from positions of power and influence wasn't newsworthy; it was normal. The fact we're now talking about these inequities is itself a sign of progress. I believe that women's potential is worth investing in—and the people and organizations working to improve women's lives are, too."
Gates is optimistic about the opportunity before us but stresses that time is of the essence: "Despite the frustrating pace of progress—or maybe because of it—something fundamental has begun to shift. The unprecedented energy and attention around gender equality makes this a moment when extraordinary progress is possible."
It is this combination of urgency and optimism that strikes such a powerful chord for Radcliffe. "We are honoring Melinda for her remarkable impact around the world, for putting women and girls at the center of the Bill & Melinda Gates Foundation's work, and for her urgent and ambitious commitment to the unfinished business of empowering women here in the United States," said Tomiko Brown-Nagin, Harvard Radcliffe Institute dean, Daniel P. S. Paul Professor of Law at Harvard Law School, and professor of history in the Faculty of Arts and Sciences.
2021 Program
ACHIEVING GENDER EQUITY IN THE UNITED STATES
Investments in achieving gender equity have significant and well-established impacts on a range of vital social and economic indicators. Where scholars and practitioners meaningfully disagree is the question of how best to increase women's power and influence: Which strategic levers of change are most effective? Does the optimal way forward lie in addressing social and cultural barriers to women's opportunity? Increasing financial and economic influence? Political representation, grassroots organizing, and public policy changes? Or elsewhere?
Our expert panelists will grapple with this question, each offering her own perspective informed by deep expertise and unique experience. The discussion will be moderated by the distinguished American historian
and
Arthur Kingsley Porter University Professor at Harvard University
Drew Gilpin Faust
, who was founding dean of the Radcliffe Institute and the first woman to serve as president of Harvard.
Following the panel discussion, Gates will engage in a wide-ranging
keynote conversation
with the investor and philanthropist
David Rubenstein
.
Drew Gilpin Faust
is president emerita of Harvard—the first woman to hold that role—and the Arthur Kingsley Porter University Professor. She was the founding dean of the Harvard Radcliffe Institute. Before coming to Harvard, she was the Annenberg Professor of History at the University of Pennsylvania. She is the author of six books, including
This Republic of Suffering: Death and the American Civil War
, named one of "The 10 Best Books of 2008" by the
New York Times.
Iris Bohnet,
author of
What Works: Gender Equality by Design
, is the Albert Pratt Professor of Business and Government, director of the Women and Public Policy Program, and academic dean at Harvard Kennedy School. She advises governments and major private companies around the world on how to achieve gender equality in their organizations.
Thasunda Brown Duckett
is CEO of Chase Consumer Banking, and will assume the role of President and CEO of TIAA on May 1. A trailblazing corporate leader—named one of the most powerful women in banking, one of the most powerful women in corporate America, and among the most influential black executives in America—Duckett is a powerful voice for financial access and inclusion in the United States.
Nikema Williams
represents Georgia's Fifth Congressional District—the seat long held by civil rights champion John Lewis—and serves as Chair of the Georgia Democratic Party. Before pursuing elective office, first in the Georgia State Senate and now in Congress, Williams was a grassroots organizer and advocate for women and girls, including as Vice President for Public Policy at Planned Parenthood Southeast and Deputy Director of Care in Action.
David Rubenstein
is a financier, lawyer, and philanthropist. He is a cofounder and co–executive chairman of the Carlyle Group, a global private investment firm. Rubenstein is chairman of the boards of trustees of the John F. Kennedy Center for the Performing Arts and the Council on Foreign Relations, a fellow of the Harvard Corporation, and a regent of the Smithsonian Institution.
Schedule
Noon–1 PM
Panel discussion moderated by Drew Gilpin Faust, president emerita of Harvard and founding dean of the Harvard Radcliffe Institute.
1–1:30 PM
Break
1:30–2:30 PM
Keynote conversation between David Rubenstein and Melinda Gates and medal ceremony presentation by
Dean Tomiko Brown-Nagin.
Register
Free and open to the public. To view this event online, individuals will need to
register via Zoom
.
After registering, you will receive a confirmation e-mail containing a link and password for this event.
Live closed captioning will be available for this event.