A Red Line in the Sand: Diplomacy, Strategy, and the History of Wars That Might Still Happen w/David Andelman '66
The book and podcast deal are filled with compelling history, personal anecdotes, and ideas for the present and the future! As a former CBS News correspondent, David Andelman '66 is a lively presenter.

A Red Line was presented to many Harvard Clubs worldwide, most notably at The Harvard Club of New York City and the Overseas Press Club of America, which was rebroadcast on C-Span2 Sunday morning ! Coming events have been scheduled with Harvard Clubs from Korea to India, Poland, Britain, and Boston (during reunion week)! Its first weekend, it had a great review in the Washington Post!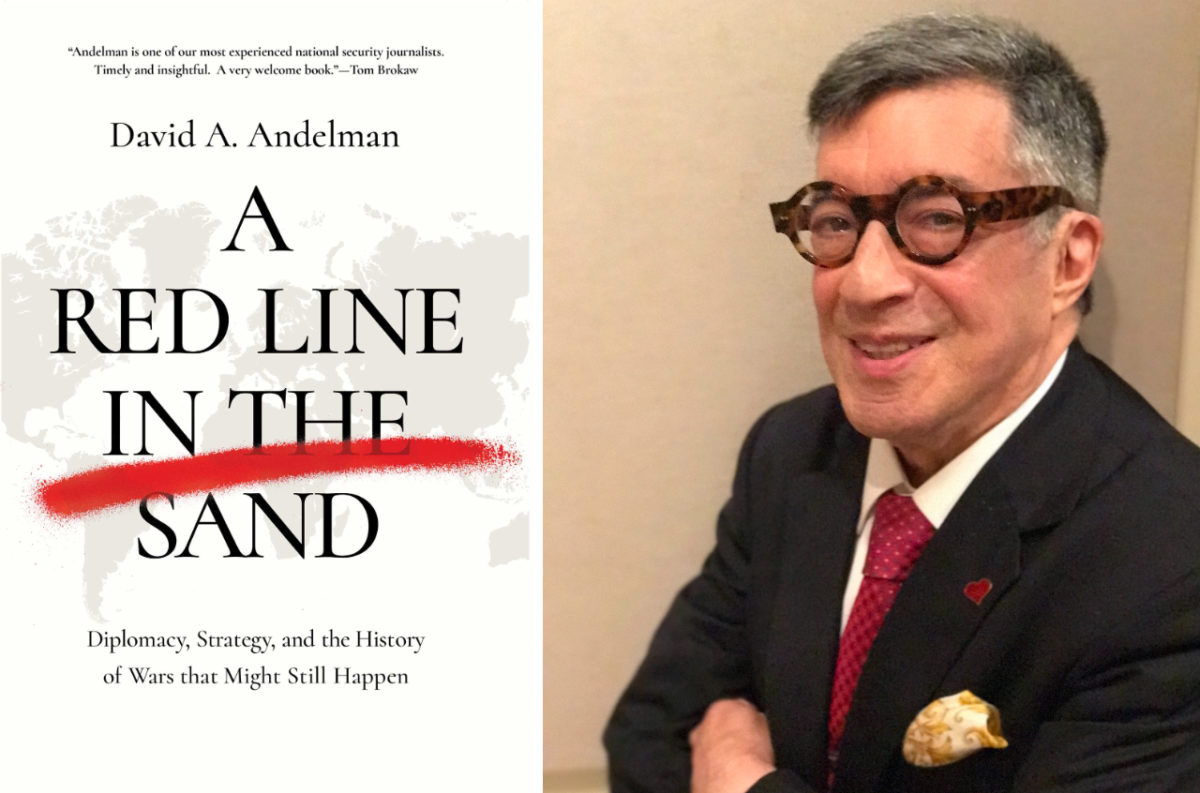 Biography:

David A. Andelman is the Editor-in-Chief of World Policy Journal, the 30-year-old global magazine and website dealing with international affairs. Previously he served as an Executive Editor of Forbes, Business Editor of The New York Daily News, and for five years as news editor of Bloomberg News. He began his career as a domestic and foreign correspondent for The New York Times, serving in various posts in New York and Washington, as Southeast Asia bureau chief, based in Bangkok, then East European bureau chief, based in Belgrade. He then moved to CBS News where he spent seven years as Paris Correspondent, traveling through and reporting from 72 countries and as ab anchor on the CBS Radio Network. He served for two years as Washington Correspondent and anchor for CNBC before moving to Bloomberg and Bloomberg Radio and Television. He is the author of three books – The Peacemakers, published by Harper & Row; The Fourth World War, published by William Morrow, which he co-authored with the Count de Marenches, long-time head of French intelligence; and A Shattered Peace: Versailles, 1919 and the Price We Pay Today, published by John Wiley & Sons in 2007 and recorded as an audible book. Mr. Andelman has written for such publications as Harpers, The Atlantic, The New Republic, The New York Times Magazine, Foreign Policy and Foreign Affairs. He is a graduate of Harvard University with an A.B. degree in diplomatic history and the Columbia University Graduate School of Journalism, is a member of the Council on Foreign Relations, the Century Association, the Grolier Club, the National Press Club and in August 2010 was elected President of the Overseas Press Club of America.

Date: Tuesday, June 8, 2021
Time: 6:00 p.m. - 7:00 p.m.
Free for Harvard Club Members and Friends and Family of David Andelman; $15.00 for Nonmembers