Conversation between Jonathan Alter '79 on his new book His Very Best: Jimmy Carter, a Life, and Mark Gearan '78, Director of HKS Institute of Politics
We will be joined by the Harvard Club of Chicago.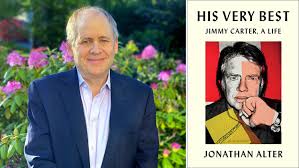 Please join us for an in-depth conversation between Harvard's own Jonathan Alter, award-winning author and political analyst, and Harvard's own Mark Gearan, Director of the Harvard Kennedy School's Institute of Politics, on Alter's new book, His Very Best: Jimmy Carter, A Life.

In it, "Alter tells the epic story of an enigmatic man of faith and his improbable journey from barefoot boy to global icon. Alter paints an intimate and surprising portrait of the only president since Thomas Jefferson who can fairly be called a Renaissance Man, a complex figure—ridiculed and later revered—with a piercing intelligence, prickly intensity, and biting wit beneath the patented smile.



Here is a moral exemplar for our times, a flawed but underrated president of decency and vision who was committed to telling the truth to the American people." https://jonathanalter.com/work/his-very-best-jimmy-carter-a-life/

"Jonathan Alter's important, fair-minded, highly readable contribution provides not just an authoritative introduction to Carter's feats and failures but also insight into why a man of such intelligence, drive and noble intentions floundered in the White House as haplessly as he did."
–New York Times Book Review

Date: March 16, 2021
7:00 p.m. – 8:30 p.m.

Free for members; $15 for non-members