SECRET COURT 100: HARVARD'S QUEER CENTURY
"Living Legacies" Harvard's LGBTQ+ past, present, and future--on the occasion of a very difficult centennial
Panel Discussion featuring Professors Michael Bronski, Diana Eck, and Evelynn Hammonds, and Amit Paley, CEO and Executive Director, The Trevor Project moderated by Professor Timothy Patrick McCarthy.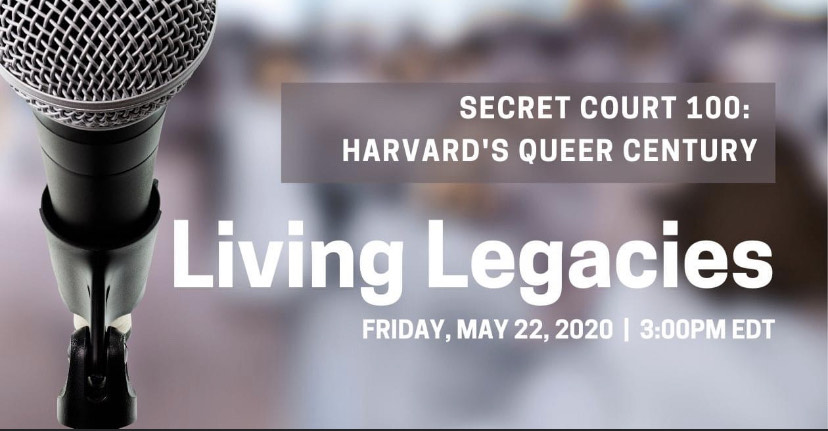 A community discussion featuring Alden Fossett, AB '21; Natalie Gale, AB '21; Diego Garcia Blum, MPP '21; Russell Reed, AB '20; Kimm Topping, EdM '20; and Kamille Washington, AB '10, MC/MPA '21. Moderated by Sheehan Scarborough, AB '07.

You are cordially invited to join in virtual conversation about Harvard's LGBTQ+ past, present, and future--on the occasion of a very difficult centennial.

In 1920, Harvard formed a "Secret Court" to investigate homosexual activity among its student body. Headed by Dean Chester Noyes Greenough within the administration of President Abbott Lawrence Lowell, the tribunal conducted a months-long witch hunt resulting in the expulsion or removal of eight students, one recent graduate, and an assistant professor. Only two of those students were ever readmitted to receive a Harvard degree, and two eventually committed suicide. The history of the Court was not discovered until 2002 in a Crimson investigation, 82 years after the injustice occurred. At the time, then-President Larry Summers responded in a short statement claiming that the events were "part of a past that we have rightly left behind," adding that "we are a better and more just community today because those attitudes [of persecution on the basis of sexual orientation] have changed as much as they have."

This spring, we are launching a series of programs to mark the centennial of the "Secret Court," to take stock of Harvard's queer century since then, and to reflect on the past, present, and future of LGBTQ+ life across the University.

Our second event, "Living Legacies," will take place on Friday, May 22 from 3:00 p.m. - 4:30 p.m. EDT, featuring current Harvard student leaders.
(Our first event, "Living Histories," will take place on Thursday, May 21 from 6:00 p.m. - 7:30 p.m. EDT, featuring prominent Harvard faculty and alumni. Please see our event calendar and register separately.)

Please register* at cutt.ly/livinglegacies

*Registrants will receive a Zoom link the day of the program

We hope you will join us for these lively and vital conversations!