Russia: A 2020 Vision, from Afar with Fiona Hill AM '91, PhD. '98
A Virtual Townhall with Dr. Fiona Hill (Harvard MA/PhD, Hist'98, U St. Andrews MA, Hist'89) Brookings Senior Fellow - Foreign Policy, Center on the United States and Europe and Host: Natasha Lebedeva, JRN'94 Columbia University; Director of International Affairs, NBC News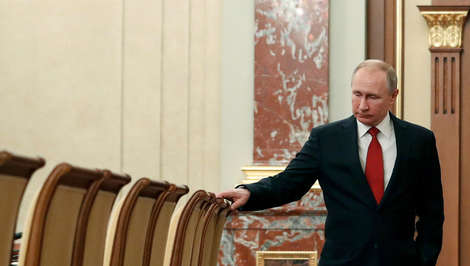 When in January, Putin delivered his annual state of the nation address, he announced urgent changes he wanted to implement, to the Constitution. In a few hours, the whole Russian Cabinet resigned. Russia's Constitutional Court convened in March to launch a review of constitutional amendments that allows Vladimir Putin to run again for president in 2024. Putin has not said whether or not he will run again in 2024, the Kremlin clarifies. But no one has any delusion who will be making the decisions for the Russians in the foreseeable future.
Please join the conversation as Washington DC's eminent Russia expert Fiona Hill discusses Putin, the modern Russian politics, and how it intersects US interests both domestically and internationally. She will explain the challenges ahead for the American stakeholders beyond 2020, and whether the United States will restore its position as the leader of the free world with a long-term strategic approach to Russia, or will it continue to struggle with its near-fatal identity crisis in a short-term transactional coexistence.
Fiona Hill is a senior fellow in the Center on the United States and Europe in the Foreign Policy program at Brookings. She recently served as deputy assistant to the president and senior director for European and Russian affairs on the National Security Council from 2017 to 2019. From 2006 to 2009, she served as national intelligence officer for Russia and Eurasia at The National Intelligence Council. She is co-author of "Mr. Putin: Operative in the Kremlin" (Brookings Institution Press, 2015).

Prior to joining Brookings, Hill was director of strategic planning at The Eurasia Foundation in Washington, D.C. From 1991 to 1999, she held a number of positions directing technical assistance and research projects at Harvard University's John F. Kennedy School of Government, including associate director of the Strengthening Democratic Institutions Project, director of the Project on Ethnic Conflict in the Former Soviet Union, and coordinator of the Trilateral Study on Japanese-Russian-U.S. Relations.

Hill has researched and published extensively on issues related to Russia, the Caucasus, Central Asia, regional conflicts, energy, and strategic issues. Her book with Brookings Senior Fellow Clifford Gaddy,"The Siberian Curse: How Communist Planners Left Russia Out in the Cold," was published by Brookings Institution Press in December 2003, and her monograph, "Energy Empire: Oil, Gas and Russia's Revival," was published by the London Foreign Policy Centre in 2004. The first edition of "Mr. Putin: Operative in the Kremlin" was published by Brookings Institution Press in December 2013, also with Clifford Gaddy.

Hill holds a master's in Soviet studies and a doctorate in history from Harvard University where she was a Frank Knox Fellow. She also holds a master's in Russian and modern history from St. Andrews University in Scotland, and has pursued studies at Moscow's Maurice Thorez Institute of Foreign Languages. Hill is a member of the Council on Foreign Relations.

When: June 2nd at 6:30 pm
Registration: Click here. Registration for this program is being taken by the Columbia Club.
Cost: The charge is $5 for Harvard Club Members and $10 for Non-Members. All proceeds will benefit 100% of proceeds will be donated to Capital Area Food Bank initiative.