Harvard Alumni Entrepreneurs: Panel Discussion with Harvard Women Entrepreneurs
HAE DC is celebrating Women's History Month featuring a panel of distinguished Harvard women entrepreneurs who will share their insights and personal stories of the unique journey of women entrepreneurs.
Entrepreneurs, aspiring entrepreneurs, and all professionals will benefit a lot from this lively discussion and engagement. Please come and join the discussion!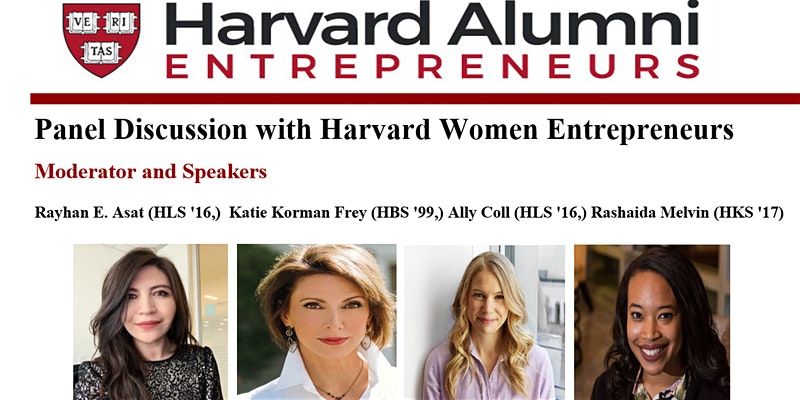 Moderator:

Rayhan E. Asat (HLS '16)
Rayhan is a lawyer, entrepreneur, and mentor. Rayhan is the Chair of Women Entrepreneurs Committee with the Harvard Alumni Entrepreneurs D.C. Chapter and the President of the purpose-driven non-profit American Turkic International Lawyers Association, (ATILA.) Rayhan is a frequent speaker at both national and international conferences, and her articles are featured worldwide. She is also a founder of iShakeup.com where she writes about entrepreneurship and business. As a mentor, Rayhan coached law students at national and international moot court competitions. Currently, Rayhan serves as a coach at LawWithoutWall "LWOW," a global, multidisciplinary collaboratory that proposes solutions to challenges in the legal education system and practices through innovation.

Speakers:

Kathy Korman Frey (HBS '99)
Kathy Korman Frey teaches Women's Entrepreneurial Leadership, the winner of a USASBE Excellence in Entrepreneurship Education Award, at the George Washington University School of Business. Frey is the founder of The Hot Mommas Project, the world's largest women's case library. The ed tech/social impact venture is a crowdsourced library of teachable stories of the women in our lives. It was started to fill a gap in educational publishing: Exposure to female mentors and role models. Such access is shown to increase self-efficacy, or the ability to set goals and control outcomes. The project has directly reached women from 138 countries with its Women's Leadership Academies, is the winner of a Coleman Foundation Case Award, and measurably increases confidence up from 21 to 300 percent (depending on length of class). Frey's background is in the merger and acquisition and venture-funded start up fields. She served as managing director for a strategic planning consulting firm and as COO for a venture arm of a major aging nonprofit. She recently served as Special Advisor to the US Small Business Administration around a women's entrepreneurship learning platform set to launch in 2020.

Ally Coll (HLS '16)
Ally Coll is the President of the Purple Campaign, a non-profit organization she co-founded to address workplace sexual harassment in the wake of #MeToo. Coll was previously a litigator in private practice in Washington D.C. where she also spent time on Capitol Hill as an aide in both the U.S. House and Senate. During the 2016 election she joined Hillary Clinton's legal team in headquarters as the Deputy Director of Voter Protection, overseeing the campaign's volunteer lawyer program and national Election Day operations. She received her law degree magna cum laude from Harvard Law School, where she served on the Board of the Harvard Women's Law Association and as the Executive Policy Editor of the Harvard Law and Policy Review.
Rashaida Melvin (HKS '17)

From a former assistant principal at a D.C. Charter School to entrepreneur, this Harvard graduate and educator turned her passion for dance into entrepreneurship and became the owner of DivaDance DC, an adult fitness dance company. DivaDance DC was featured on "Good Morning Washington" and ABC 7's "Let's Talk Live." In addition to her entrepreneurship, she continues to educate and is currently the Associate Director of Instructional Coaching for a virtual education company called EdConnective. Rashaida also serves as a Program Manager with One World Education and sits as Treasurer of the Harvard Black Alumni Society, DC Chapter.
Harvard Alumni Entrepreneurs (HAE) is a volunteer-managed, locally organized non-profit organization with 14 Chapters worldwide, connecting over 11,500 Harvard alumni, faculty, staff and friends from across the University and throughout the world. To learn more about HAE go to Harvardae.org


When: TO BE RESCHEDULED!/Thu, March 19, 2020 6:00 PM – 8:30 PM EDT
Where: Bay Atlantic University, 1510 H Street Northwest Washington, DC 20005
Price: $12
Register by clicking here
When:
6:00PM - 8:30PM Thu 19 Mar 2020, Eastern timezone

Where:
Bay Atlantic University Washington, DC 20005
1510 H Street Northwest
Washington, DC 20005 USA
[ Get Directions ]