A dinner and Musical Conversation with Vern Falby of the Peabody Institute and Pianist Catalin Dima
All are welcome to attend. The evening will begin with drinks and dinner.
A number of years ago, it occurred to Vern Falby that he could offer a vivid demonstration of the shared importance of artistic patterning and design across cultures and media. Specifically, he noticed that the audible quadrilateral design of many of J.S. Bach's pieces, iconic masterpieces from our musical tradition, has a design remarkably analogous to the equally iconic quadrilateral patterning within the central medallions of Persian carpets from the Heriz region of Iran! This is a direct analogy to the phenomenon of multiple discovery (or simultaneous invention) in the sciences. And the striking parallel in the two noble arts, also matches the "voyage and return" plot in literature, offering strong testimony to the centering, affirming, unifying, and therapeutic power of archetypal pattern in the human experience.

Falby has developed an approach and the practical tools to investigate works of music, which he calls "Thinking by Ear." This approach encourages listeners and performers alike to become consciously aware of the layered musical patterns and processes within every musical piece, and to hypothesize how music's patterning works upon the emotions of their audiences. Such understanding of how music works is invaluable in listening to and making music. The goal is to expand comprehension of music to the point where we can hear how every piece of music works as a whole.

Tuesday, May 8 from 6:30 pm to 8:30 pm
Hogan Lovells (555 13th St NW Washington, DC 20004)
Members and their guests: $45/person
Friends of Prof. Falby: $45/person
Non-members: $65/person
Menu
Kale, spinach and tofu poke salad
Lomi Lomi salmon topped with tomato and olive salsa
Mocchiko chicken with mango papaya marmalade
Curry coconut rice
Sunburst squash with carrots;
Mini coconut chocolate chip bars and fruit
Click here to buy tickets!!!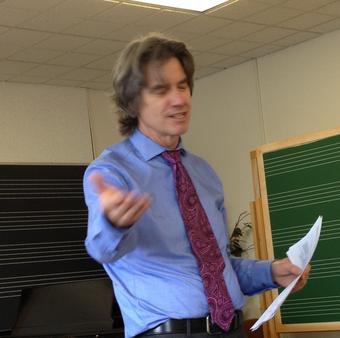 VERN FALBY's professional teaching career spans over 30 years. He has been on the Music Theory faculty of the Peabody Conservatory of the Johns Hopkins University since 1989. He earned a Ph.D. in Musicology, Music Theory emphasis, from the University of Maryland, and formerly was on the Music Theory faculties at Hartt School of Music and Louisiana State University.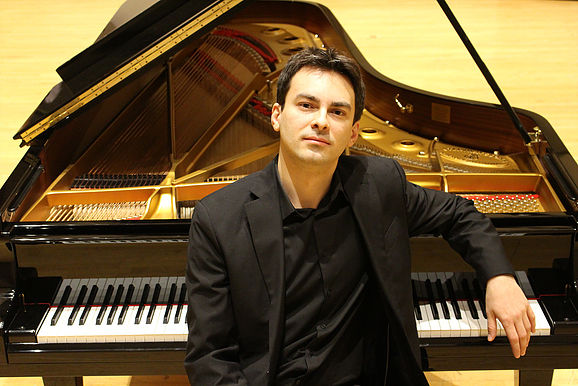 CATALIN DIMA, pianist, hails from Romania and is one of the top musicians of his generation. Laureate of many international competitions, including the Shenandoah Concerto Competition (USA), Fr. Chopin International Piano Competition (USA), Carl Filtsch International Piano Competition (Romania), Yamaha Piano Competition and Pro Piano International Competition (Romania), Catalin Dima inspires people's lives through his compassion and the sounds he creates. He also participated and performed in festivals, including the International Keyboard Institute & Festival in New York, Interharmony International Music Festival in Germany and International Summer Academy in Wien. He has performed many solo recitals and as a soloist with orchestras in Europe and USA on stages such as Klavierhaus, Mannes Conservatory and International House in New York, Boston Conservatory in Boston, Romanian Athenaeum and Radio Concert Hall in Bucharest, Norwegian Academy of Music in Oslo.
When:
6:30PM - 8:30PM Tue 8 May 2018 ( Timezone: Eastern )

Where:
Hogan Lovells
555 13th Street NW
Washington, DC 20004 US
[ Get Directions ]