Festa Siciliana Cooking Class at the Casa Italiana with Chef Amy Riolo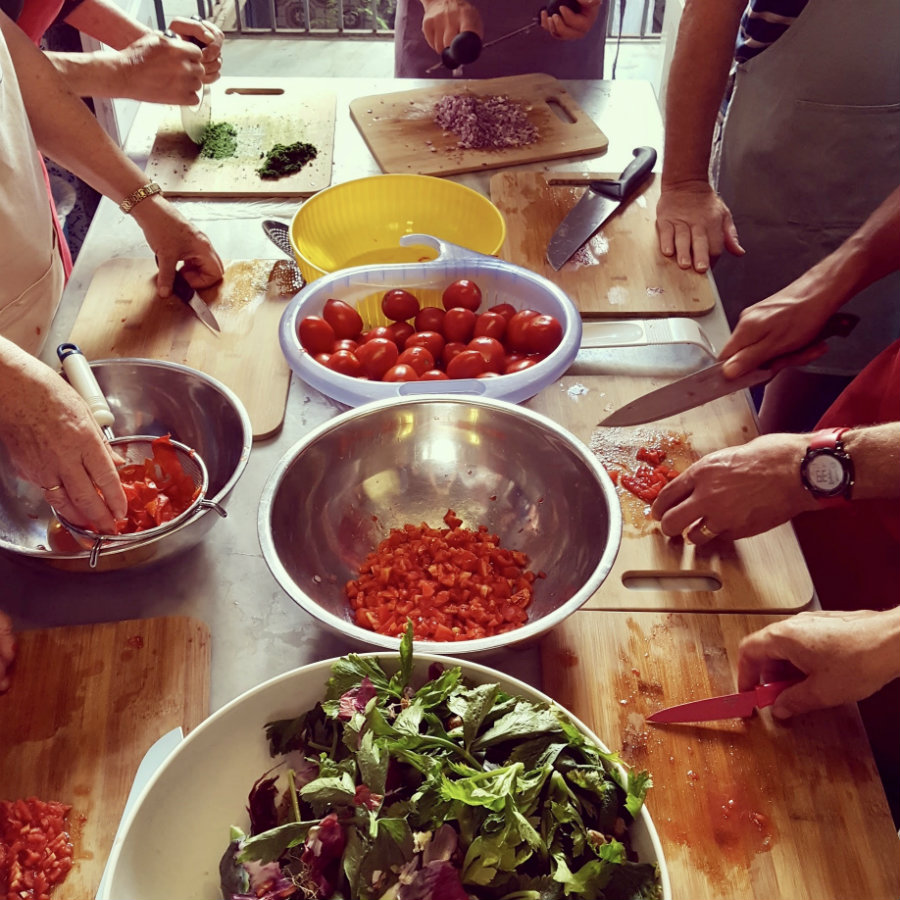 Festa Siciliana is a hand-on cooking class and the menu will include:

Wine

Penne with eggplant tomato sauce/Penne alla Norma.

Sicilian style tuna steaks/tonno alla siciliana.

Red pepper, yellow tomato, and artichoke salad/insalata di peperoni rossi, pomodori gialli, e Carciofi.

Sweet couscous/cuscus dolce



Join chef AMY RIOLO and discover how traditional Italian meals become an easy feast in the kitchen of Casa Italiana. The no-fuss environment is conducive to learning, experimenting and enjoying wholesome ingredients, elegant menus and making new friends.

The motto is: a tavola non si invecchia!





About Amy Riolo



As an award – winning, best-selling, author, chef, television personality, cuisine and culture expert, and educator, Amy Riolo is known for sharing history, culture, and nutrition through global cuisine. A graduate of Cornell University, Amy is considered one of the world's foremost authorities on culinary culture. She is a culinary thought leader who enjoys changing the way we think about food and the people who create it."

Amy is a food historian, culinary anthropologist and Mediterranean Diet advocate who makes frequent appearances on numerous television and radio programs both in the United States and abroad, including Fox TV, ABC, CBS, NBC, The Hallmark Channel, Nile TV, The Travel Channel, Martha Stewart Living Radio, and Abu Dhabi Television. She also created and appeared weekly in ninety second cooking videos entitled "Culture of Cuisine" which air on nationally syndicated news shows on 28 different channels across the United States, totaling a reach of over 300 million people. One of her videos reached a record of four million hits.

If you are interested in Italian language, food or culture the chef says "The best place to learn about Italy is in the kitchen." The cooking classes at Casa Italiana cover the preparation of various courses from around Italy: some are old favorites and some are the latest creations. These classes are participatory so expect to do a little work; most people discover once they let their inner chef out, the classes take on a new dynamic.Get ready for some good food, good company and good wine!
Note: Classes include an average of ninety minutes of hands-on cooking.

When: Thursday, April 2nd, 6:00 pm - 9:00 pm
Where: La Casa Italiana, 595 1/2 Third Street, NW Washington, 20001
Price: $88 for Members. $108 for Non-Members.
When:
6:00PM Thu 11 Jun 2020 ( Timezone: Eastern )

Where:
La Casa Italiana
595 1/2 Third Street, NW
Washington, DC 20001
[ Get Directions ]