HE Dr. Arikana Chihombori-Quao has invited us to the Embassy of the African Union

This program will be followed by a catered reception with wine and beer and is limited to Harvard Club members and their guests and the Members of other Ivy League Clubs and their guests.

HE Dr. Arikana Chihombori-Quao is the African Union Ambassador to the United States. Dr. Chihombori-Quao is a native of Zimbabwe who emigrated to the United States in 1977. She obtained her medical degree in 1986, spending three years in general surgery in New York and 25 years providing family medicine in Murfreesboro, Tennessee. In 2012 she became Chair of the African Union—Diaspora Health Initiative and in 2016 was appointed African Union Ambassador to the United States.

Join us as the ambassador of the African Union to the United States discusses the African diaspora, the origins and lingering effects of colonialism, and the future of the continent.

Location: Mission of the African Union - 1640 Wisconsin Avenue, NW Washington DC 20007
Price: $45.
Date: Wednesday: August 14th

6:30 - 6:45 p.m. Registration - Out of respect for the Embassy staff, please do not arrive before 6:15 p.m.
6:45 - 7:15 p.m. Ambassador greets us and talks about the Mission of African Union here in the United States
7:15 - 8:00 p.m. Reception featuring pan- African cuisine and beer and wine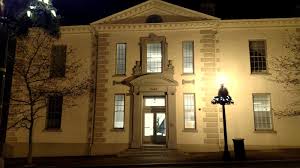 The African Union was established after the Government of the Organization of African Unity issued a Declaration in 1999, with the view of accelerating the process of integration in the continent, and to enable it to play a role in the global economy. The vision of the African Union is that of "an integrated, prosperous and peaceful Africa, driven by its own citizens and representing a dynamic force in the global arena." The African Union Representational Mission to the United States of America is the first bilateral diplomatic mission of the African Union, officially launched in 2007.
Dr. Arikana Chihombori Quao, a Ghanaian national, was appointed as the Permanent Representative in February of 2017 and is the second to hold the post.