SOLD OUT!/HE Kurt Jaeger, Ambassador of the Principality of Liechtenstein, has invited us to his Residence
We are indebted to Mr. Matthew Keller, Senior Advisor at the Embassy of Liechtenstein, for his collaboration on this event. Please note that this event will begin promptly at 6:00 pm. Space is limited, so please register early.
Program
6:00 - 6:30 pm Registration; Doors will open promptly at 6 pm. Any early arrivals are welcome to wait in furnished lobby.
6:30 - 7:00 pm Talk by HE Kurt Jaeger followed by Q&A between the Ambassador and Harvard Club members
7:00 - 8:00 pm Reception and continued discussions and engagement with Ambassador Jaeger and embassy staff.
Registration
This event is limited to Harvard Club members and their guests. Business attire is required $45/person.
There is a public parking garage connected to the building, which is at the corner of 30th and K St NW, and is marked with the Liechtenstein flag (blue and red with a gold crown). The address of the Ambassador residence is 2900 K Street NW Suite 602-A.
Click here to buy tickets!!!
All proceeds will benefit the Harvard Club's community service efforts. Please do not telephone the Embassy of The Principality of Liechtenstein regarding this event. For additional information, please call 202-337-1300 and speak to Caren Pauley, Executive Director of the Harvard Club.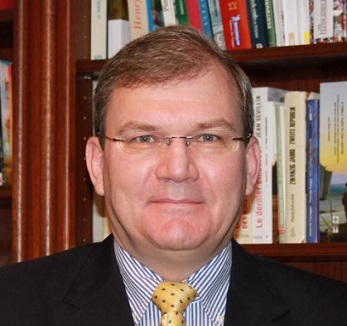 Biography of Ambassador Kurt Jaeger
In August of 2016 Kurt Jaeger was appointed Ambassador of Liechtenstein to the United States of America. From 2010-2016 he was Ambassador of Liechtenstein to the European Union (EU) and Belgium. He has over 25 years of professional experience in international regulatory affairs of which 15 years were acquired in the airline industry and civil aviation administration. Prior to his ambassadorial posting from 2005-2010 Ambassador Jaeger was elected as one of three members of the Board of the European Free Trade Association (EFTA) Surveillance Authority in charge of monitoring and enforcing the application of EU law in the European Economic Area (EEA) by the three EFTA-States Iceland, Liechtenstein, and Norway.

His academic career includes a degree acquired in 1987 from the University of Fribourg, Switzerland with a license en droit and with an LL.M. in 1989 from McGill University, Montreal. After his postgraduate studies, during which he also worked as a research fellow in public international law at Fribourg University, he joined the Swiss Federal Office for Civil Aviation for six years where he was first in charge of international air transport regulation and policy and then became Executive Assistant to the Director General for Civil Aviation.

He subsequently switched to the private sector taking on positions in a private law practice in Liechtenstein. He then became secretary of the board of directors and general counsel of the Swiss regional air carrier Crossair. Later he served as Vice-President for international corporate affairs for an airline IT company and finally as Vice-President for aeropolitical affairs at Swiss International Air Lines where he was responsible for the regulatory matters as well as industry and political relations. In this capacity he took on a leading role in the legal structuring of the business transfer from the defunct Swissair in 2001/2002 and then of the airline's merger with Lufthansa in 2005. Upon completion of the merger in 2010, he was appointed to the position as Ambassador to the EU and Belgium. His main responsibilities were the representation of his country towards the EU in institutions of the EEA and the Schengen Agreement.

Click here to buy tickets!!!
When:
Tuesday, 03/5/19 at 6:00pm - 8:00pm | iCal
Where:
Residence of the Ambassador of Liechtenstein
2900 K Street NW Suite 602-A
Washington, DC 20007 USA
[ Get Directions ]