Newseum tour - More to Every Story
Overwhelmed or confused by all the news headlines? How to put all of the news into context?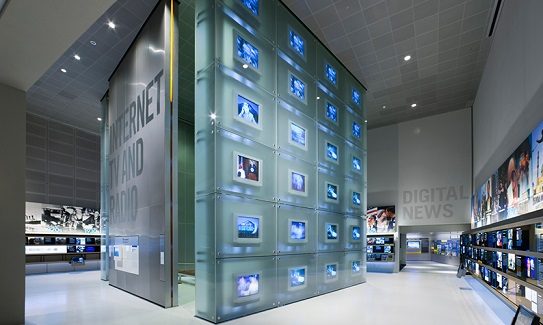 See for yourself why the Newseum is called a "must-see" attraction in Washington, D.C, and widely considered to be one of the top 25 museums in U.S. Located between the White House and the U.S. Capitol, a visit to the Newseum is a conversation-inspiring experience you won't find anywhere else. The Newseum promotes, explains and defends free expression and the five freedoms of the First Amendment: religion, speech, press, assembly and petition: http://www.newseum.org/visit/.

Come enjoy a guided "Highlight" tour of 60 minutes and an opportunity to get to know fellow club members!

A 15-minute 4-D film, "I-Witness: A 4-D Time Travel Adventure," is also included in the admission ticket. "Some of the most dramatic events in journalism history are recreated in "I-Witness: A 4-D Time Travel Adventure," where a 3-D film and fourth-dimension special effects take visitors on a journalistic trip through time."

Please arrive at 11:15 am to get the admission and tour tickets. The guided tour will begin at 11:30 am. You are also welcome to see more exhibits after the tour.

Total cost of admission and tour:
Adult Members and Guests (19 and older): $30
Adult Non-Members and Guests (19 and older): $35
All Youth (7-18): $20
All Children (6 and younger): Free

Adult and Youth Tour Only: $10. Important Note: You cannot join the tour if you do not have an admission ticket. We offer this option for Newseum members and others that may have otherwise obtained admission tickets.

Deadline for registration: Online registration closes at 5:00 pm on Friday, June 2. We may be able to accommodate a limited number of on-site registrations.
Click here to buy tickets!!!
Newseum: 555 Pennsylvania Ave., N.W., Washington, DC 20001
Closest metro: Archives/Navy Memorial/Penn Quarter, on Green Line and Yellow Lines
Judiciary Square, on Red Line.
Federal Triangle, on Orange, Blue, and Silver Lines
Parking or other info: http://www.newseum.org/visit/getting-here/
For any members who are interested in socializing with other members before the tour, please join us at 10:00 am at the Paul Bakery and Café. It's 2-3 blocks from the museum and we will walk together to join others for the tour.
Paul Bakery & Café:
801 Pennsylvania Ave, NW
Washington, DC 20004
(between 8th and 9th Streets, NW)


When:
Saturday, 06/3/17 at 11:15am - 12:30pm | iCal
Where:
Newseum
555 Pennsylvania Ave NW
Washington, DC, 20001 USA
[ Get Directions ]
Enter Waitlist Here...