IN PERSON: Shout Sister Shout! at Ford's Theatre
Join HCW for the pre-Broadway run of this new musical, exploring the life and legacy of Sister Rosetta Tharpe, the legendary singer and guitarist who became a pioneer of rock, R&B and gospel crossover.
When: Thursday, March 23rd, 2023, 7:30pm ET
Where: Ford's Theatre, 511 Tenth Street NW, Washington, DC, 20004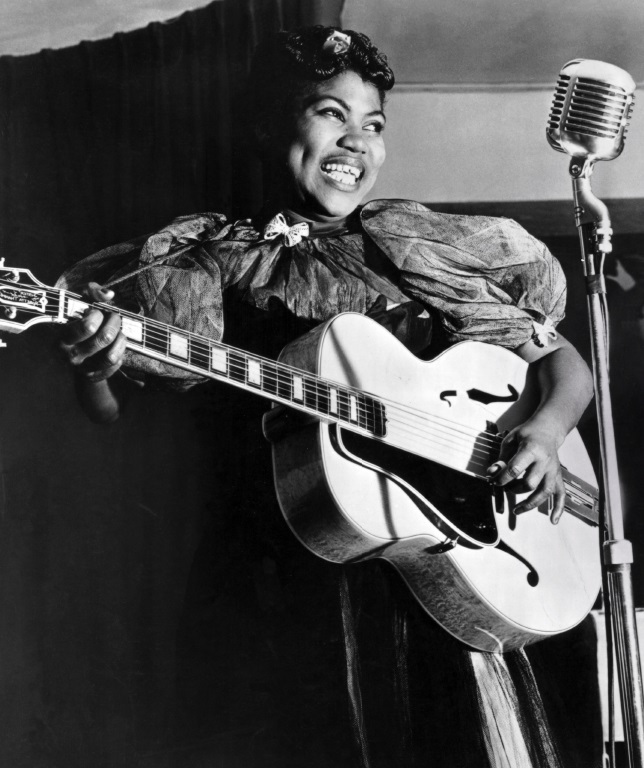 Before Elvis shook his pelvis, Johnny Cash shot a man in Reno, or the Beatles invaded America, rock & roll had its infancy in the music of Sister Rosetta Tharpe. One of the first great recording stars of gospel music, her combination of pulsing swing beats, melody-driven urban blues, traditional lyrics and folk arrangements, and distorted electric guitar would come to influence many of the artists who would go on to be considered icons of rock & roll. Among her admirers included the aforementioned Presley and Cash, as well as Chuck Berry, Aretha Franklin, Jerry Lee Lewis, Tina Turner, and Isaac Hayes. Little Richard names her as his favorite performer, and she was even instrumental in launching his career - in 1947, she heard Richard sing before her concert at the Macon City Auditorium and later invited him on stage to sing with her; it was Richard's first public performance outside of the church. Following the show, she paid him for his performance, which inspired him to become a performer.
For such an influential figure, however, there has been surprisingly little exploration of Sister Rosetta as a person. As Rolling Stone Magazine said about her 2018 induction into the Rock and Roll Hall of Fame, "no artist has been more overdue for recognition than Sister Rosetta Tharpe. A queer black woman from Arkansas who shredded on electric guitar, belted praises both to God and secular pleasures, and broke the color line touring with white singers, she was gospel's first superstar, and she most assuredly rocked." Therefore, we invite you to join the HCW at Ford's Theatre to watch the new musical Shout Sister Shout!, a spirited, authentic and emotionally charged story about a charismatic music forerunner and the authentic roots of rock-and-roll. Ambitious, courageous and uncompromisingly public, Tharpe's work as a pioneer of the women's movement for racial and sexual equality and musical legend who redefined the national and international music scene in the 1930s and 40s and beyond is a rich subject for the musical, which has met with rave reviews during its previous engagements at the Pasadena Playhouse and the Seattle Rep, and its run at Ford's is expected to be a precursor for a launch on Broadway soon. Get in on the ground floor of this assured hit about the "Godmother of Rock & Roll" with us!
How to Get There: Blue, Orange, Red & Silver lines to Metro Center, Red, Green & Yellow lines to Gallery Place-Chinatown; 54, 59, 63, 64, D6 and numerous other buses nearby; several nearby parking garages.
Fees:
Harvard Club Members & their Guests - $60
Non-Members: $70
Covid-related Safety Requirements: If you have recently tested positive or have symptoms, please do not attend this event. If you are ill, please notify us prior to the start of the event and we will be happy to credit your ticket payment to a future event. The Club encourages everyone to be vaccinated and boosted, and to wear masks indoors when not eating or drinking, especially when social distance cannot be maintained.