VIRTUAL: Jonathan White on his New Book

A House Built By Slaves: African American Encounters with Abraham Lincoln



The story of how President Lincoln welcomed African Americans to the White House in America's most divided and war-torn era.



Date: Tuesday, July 19, 2022 at 6:00 - 7:00pm ET
Location: Virtual via Zoom


Prior to the Civil War, African Americans were almost entirely excluded from the White House, other than as servants or enslaved persons. However, during the war, African Americans claimed the First Amendment right to petition the government. For the first time in the history of the United States, they saw the president as their president and the White House as their people's house. Between 1862 and 1865 Lincoln welcomed hundreds of African Americans into his office and at public receptions. This talk will explore the remarkable story of that relationship.

Henry Louis Gates Jr. had this to say about the book:
This is an intriguing addition to the world of Lincoln scholarship that takes us inside the Executive Mansion at the dawn of the second founding of the nation. It's more than a record of handshakes; it's an attempt to size Lincoln up through the eyes of Black Americans who visited the "people's house" that their people had built and in whose names they were determined to win the fight for freedom and citizenship.— Henry Louis Gates Jr.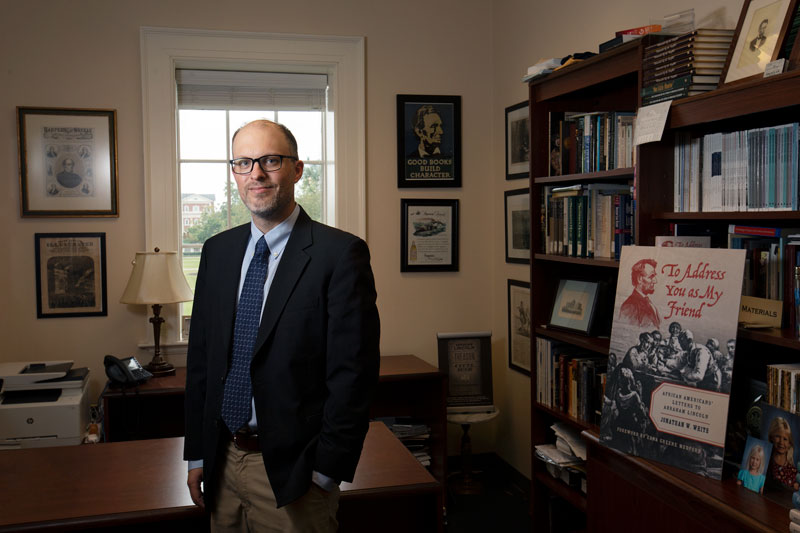 Jonathan White illuminates why Lincoln's then-unprecedented welcoming of African American men and women to the White House transformed the trajectory of race relations in the United States. From his 1862 meetings with Black Christian ministers, Lincoln began inviting African Americans of every background into his home, from people who had formerly been enslaved in the Deep South to champions of abolitionism such as Frederick Douglass and Sojourner Truth. Drawing from an array of primary sources, White reveals how African Americans used the White House as a national stage to amplify their calls for equality.



About the Author:
Jonathan White is an historian of the American Civil War with a particular interest in Abraham Lincoln and U.S. constitutional history. At Christopher Newport University he teaches American Studies courses on the Declaration of Independence, the Constitution, Abraham Lincoln, and the history of treason in America.

Fee:
Harvard Club Members and their guests: FREE
Nonmembers: $15