Anthony McGill and Anna Polonsky from the Music Room at Dumbarton Oaks
This FREE concert is streaming between April 24 at 2:00 p.m. and April 30 at 2:00 p.m. Registration is required.

We are delighted to invite you once again to a concert at Dumbarton Oaks! Clarinetist Anthony McGill and pianist Anna Polonsky join forces in an exciting program that embraces both new and familiar works for clarinet and piano by Robert Schumann, James Lee III, Johannes Brahms, and former Dumbarton Oaks Early-Career Musician in Residence Jessie Montgomery. Be sure to get your virtual front-row seat for this free event, recorded live and streamed from the historic Music Room.

A link to the streaming performance will be provided to all ticket holders on Saturday, April 24 at 2:00 p.m. ET and will be accessible until Friday, April 30 at 2:00 p.m. ET. The concert is free but registration is required.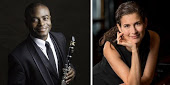 Clarinetist Anthony McGill is one of classical music's most recognizable and brilliantly multifaceted figures. He serves as the principal clarinet of the New York Philharmonic—that orchestra's first African-American principal player—and maintains a dynamic international solo and chamber music career. Hailed for his "trademark brilliance, penetrating sound and rich character" (New York Times) and "exquisite combination of technical refinement and expressive radiance" (Baltimore Sun), McGill also serves as an ardent advocate for helping music education reach underserved communities and for addressing issues of diversity, equity, and inclusion in classical music.
Pianist Anna Polonsky has performed extensively throughout the United States, Europe, and Asia, garnering accolades as a recitalist, chamber musician, and orchestral soloist. The New York Times praised her as "a chamber musician of exceptional refinement [with] an appealing touch and compelling interpretive skills," while the Washington Post described her playing as "consistently captivating." She made her solo piano debut at the age of seven in Moscow, emigrating to the United States in 1990. She holds degrees from the Curtis Institute and the Juilliard School and serves on the piano faculty of Vassar College.

This FREE concert is streaming between April 24 at 2:00 p.m. and April 30 at 2:00 p.m.
McGill and Polonsky Register Here