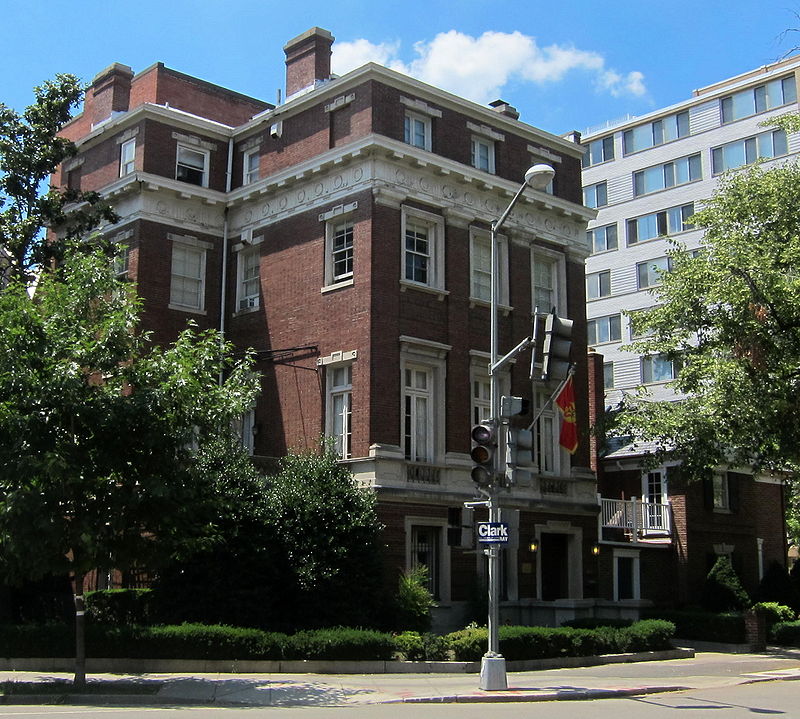 HE Nebojša Kaluđerović, the Ambassador of Montenegro, Invites Harvard Club Members to The Embassy
A full Montenegrin buffet dinner with Montenegrin wine will be catered by Adrianna Jadranka, renowned DC caterer specializing in Balkan and Eastern European Cuisine.




Program
6:30 - 6:45 p.m. Registration - Out of respect for the Embassy staff, please do not arrive before 6:15 p.m.
6:45 - 7:45 p.m. Ambassador greets us and talks about his country, relations with the US or any other topic of interest.
7:45 - 9:00 p.m. Reception featuring famous Montengrin wine and food, and continued discussions and engagement with Ambassador Nebojša Kaluđerović and embassy staff.
*Please note that this event will begin promptly at 6:30 pm. There is limited seating which is reserved for our older guests. *
We are indebted to Nina Z. of the Embassy of Montenegro for her collaboration in arranging this event.
The address of the Embassy of Montenegro is: 1610 New Hampshire Ave NW, Washington, DC 20009

Registration
This event is limited to Harvard Club members and their guests. Business attire is required and the cost is $55 per person. All proceeds will benefit the Harvard Club's community service efforts. Space is limited, so please register early.

Menu
Charcuterie Board
Spinach Pie
Popeci
(Chicken meat stuffed with cream cheese and ham)
Lamb Stew
(Lamb with vegetables cooked in milk)
Polenta with Cheese
Vegetarian Moussaka
(Eggplant, Tomato, Zucchini, Peppers)
Sopska Salad
(Diced Cucumber, tomato, peppers and feta cheese)
Podvarak
(Sate Sauerkraut)
Homemade Bread
~ Dessert ~
Assorted petit Desserts
Apple Squares
~ Beverages ~
Water
Soft Drinks
Purchase Tickets!!!
Biography of Nebojša Kaluđerović
Nebojša Kaluđerović, who once served as his country's foreign minister and is a career member of the diplomatic service, has been Montenegro's ambassador to the United States since January 18, 2017. He is also the non-resident ambassador to Canada.

Kaluđerović was born December 17, 1955, in Nikšić, in what was then Yugoslavia. He graduated from secondary school there in 1974 and earned a B.A. in international relations at Belgrade University in 1979.

Kaluđerović joined Yugoslavia's foreign service in 1981 as third secretary for international legal affairs in the Department for Research and Analysis and in 1984 was made an adviser in the cabinet of the deputy foreign minister. His first assignment in the United States came in 1986, when he was a third secretary in Yugoslavia's delegation to the United Nations. Kaluđerović returned to Belgrade in 1991 as an adviser to the cabinet of the secretary for foreign affairs. He left the government the following year to work as a legal adviser. In 1994, Kaluđerović left for a long stint in Russia to work as a trade representative. He was first director of the Montex Trade Office in Krasnoyarsk, then in 1996 was marketing director of Zepter International in Moscow and then director of Jugoimport SDPR Trade Office, also in Moscow.
Kaluđerović returned to the foreign ministry in 2000 as assistant minister for multilateral affairs for the Republic of Montenegro. In 2002, he was named chief of cabinet for Montenegro's president and beginning in 2003 held that job in the prime minister's office.
Kaluđerović was named Serbia and Montenegro's ambassador to the United Nations in 2004, along with representing his country in Cuba and Costa Rica. He later said that the part of the job he didn't like was defending Serbia's reluctance to participate in war crimes trials involving Serbian officials.

When Serbia and Montenegro split in 2006, in June Kaluđerović became Montenegro's representative at the United Nations, running his country's mission out of his son's bedroom, and ambassador after that country became a member. While serving as UN ambassador, Kaluđerović was invited to speak at a New York meeting of the Nero Wolfe society, the Wolfe Pack, because the fictional detective created by Rex Stout was said to have been born in Montenegro.

Kaluđerović returned home in 2010 to be state secretary for political affairs at the Ministry of Foreign Affairs. He served for a few months in 2012, from July through December, as foreign minister and minister of European integration. The following year, he was made foreign policy adviser to the prime minister and was put in charge of Euro-Atlantic integration. Beginning in March 2015, he was Montenegro's representative to the UN agencies in Geneva.

Kaluđerović's main goal as ambassador was to help his country obtain full membership in the North Atlantic Treaty Organization (NATO). On April 11, 2017, U.S. President Donald Trump signed the U.S. instrument of ratification to approve Montenegro's membership.

The Embassy of Montenegro located at 1610 New Hampshire Avenue, N.W., in the Dupont Circle neighborhood of Washington, D.C. Built around 1892 as a private residence, the Georgian Revival-style building is designated as a contributing property to the Dupont Circle Historic District, listed on the National Register of Historic Places in 1978. Previous occupants include the A. K. Rice Institute, Charles L. McCawley, Sarah H. McCawley (grandmother of Henry Cabot Lodge and daughter of Frederick T. Frelinghuysen), the Washington School of Psychiatry, and the William Alanson White Foundation.