Alumni Night at the Washington National Opera's Performance of Mozart's The Magic Flute
These specially priced tickets also include a private pre-performance talk with WNO Expert in The Private African Lounge at 6:30 pm before the 7:30 pm performance and a post-performance party with artists and WNO Trustees in the private Russian Lounge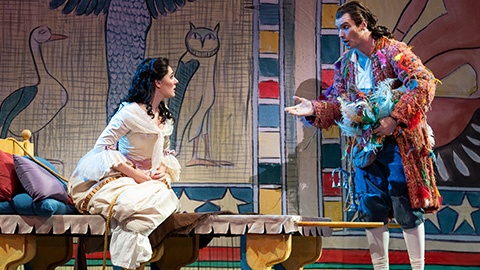 The Magic Flute - Mozart meets Maurice Sendak and a little magic.
Music by Wolfgang Amadeus Mozart / Libretto by Emanuel Schikaneder
Production from Portland Opera with Designs by Maurice Sendak

This great adventure starts with an unexpected pair: Tamino, a handsome young prince, and Papageno, his silly bird-catcher sidekick. When the mysterious Queen of the Night enlists the duo to rescue her kidnapped daughter Pamina, a fantastic journey follows. Armed with a magic flute and bells, they're prepared for whatever trials they may face. However, not all is as it seems—and not everyone can be trusted.


Friends will become foes and enemies will become allies in Mozart's final and beloved opera. A whimsical production designed by children's author/illustrator Maurice Sendak, known for his rumpus-filled artistry, sets a playful landscape for this enchanting fairy tale. Rich with colorful characters, unforgettable vocal acrobatics, and evocative symbols and allegory, Tamino's quest for love and truth is fantastical entertainment for all ages.

Join alumni from Brown University, Colgate University, Cornell University, Dartmouth College, Duke University, Georgetown University, Harvard University, Johns Hopkins University, Lehigh University, Smith College, University of Chicago and Wake Forest University on Friday, November 22 for Alumni Night at the Washington National Opera.

Registration
Harvard Club members and guests should book tickets directly through the Kennedy Center website with this link and using the Harvard promo code on the attached flyer:
https://www.kennedy-center.org/Seating/SYOS/68169

Additional Information
6:30 pm - Private Pre-performance Talk with WNO Expert in The Private African Lounge
7:30 pm - Start of performance with Charmpagne Intermission and
Post Performance Champagne Cast part with WNO Artists and Trustees in the private Russian Lounge
Thank you to Harvard Club Member, James Figetakis MBA '90, for organizing this event.

For additional questions about this event, please contact James Figetakis directly.
When:
6:30PM - 9:30PM Fri 22 Nov 2019 ( Timezone: Eastern )

Where:
Washington National Opera
Kennedy Center 2700 F Street, NW
Washington, DC 20566
[ Get Directions ]