Self-Guided Visit to the African american Museum of History and Culture - FREE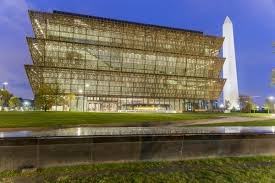 This event is limited to Harvard Club Members and their guests. This is the hottest museum ticket in town. Please register early as space is limited to 75 visitors.
Please meet at the Constitution Avenue entrance of the Museum of African American History and Culture a few minutes before 3:00 PM. You will not be admitted before 3:00 pm and the museum closes at 5:30. The executive Director of the Harvard Club will personally distribute the tickets.



Early efforts to establish a federally owned museum featuring African-American history and culture can be traced to 1915, although the modern push for such an organization did not begin until the 1970s. After years of little success, a much more serious legislative push began in 1988 that led to authorization of the museum in 2003. A site was selected in 2006, and a design submitted by Freelon Group Adjaye Associates/ Davis Brody Bond was chosen in 2009. Construction began in 2012 and the museum completed in 2016. The NMAAHC proved immediately popular, ranking as the fourth most-visited Smithsonian museum in its first full year of operation. The museum has more than 40,000 objects in its collection, although only about 3,500 items are on display. The 350,000-square-foot (33,000 m2), 10 story building (five above and five below ground) and its exhibits have won critical praise.

The National Museum of African American History and Culture. While the museum's silhouette is inspired by African art, the building's "skin" — the 3,600 panels of shimmering, bronze filigree that sheath the glass building — is rooted in the traditions of the South, and the intricate ironwork forged by the African-American craftsmen of New Orleans and Charleston.

Click here to reserve your tickets!!!
When:
3:00PM - 5:30PM Mon 21 Oct 2019 ( Timezone: Eastern )

Where:
The African American Museum of History and Culture
1400 Constitution Ave NW,
Washington, DC 20560 USA
[ Get Directions ]