A dinner Conversation with DR. Carla Hayden, Librarian of Congress: Connecting with Users and Enriching the Library Experience in the Digital Age
Increasing the Accessibility of the Library of Congress Collection. This program will begin with drinks and a full dinner.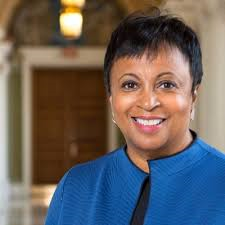 The Harvard Club welcomes Dr. Carla Hayden, the first woman and the first African American to lead the Library of Congress, the national library. Nominated to the position by President Barack Obama on February 24, 2016 and later confirmed by Comgress, Dr. Hayden was sworn in as the 14th Librarian of Congress on September 14, 2016. Prior to her latest post, Dr. Hayden served as CEO of the Enoch Pratt Free Library in Baltimore, Maryland. Dr. Hayden was nominated by President Obama to be a member of the National Museum and Library Services Board in January 2010 and was confirmed to that post by the Senate in June 2010. Prior to joining the Pratt Library, Dr. Hayden was deputy commissioner and chief librarian of the Chicago Public Library from 1991 to 1993. She was an assistant professor for Library and Information Science at the University of Pittsburgh from 1987 to 1991. Dr. Hayden was library services coordinator for the Museum of Science and Industry in Chicago from 1982 to 1987. She began her career with the Chicago Public Library as the young adult services coordinator from 1979 to 1982 and as a library associate and children's librarian from 1973 to 1979. Dr. Hayden was president of the American Library Association from 2003 to 2004. In 1995, she was the first African American to receive Library Journal's Librarian of the Year Award in recognition of her outreach services at the Pratt Library, which included an after-school center for Baltimore teens offering homework assistance and college and career counseling. Dr. Hayden received a B.A. from Roosevelt University and an M.A. and Ph.D. from the Graduate Library School of the University of Chicago.
MENU
Heirloom Tomato Salad over mixed Greens
Salmon topped with tomato and olive salsa
Fried chicken with a sweet sauce
Steamed seasoned rice
sunburst squash with carrots
Sliced fruit
Mini coconut chocolate chip bars
Click here to buy tickets!!!
Registration:
Harvard Club members and their guests: $45/person
Non-Members: $65/person
Date and Time:
September 12th, 6:30 -8:30PM
Location:
Hogan Lovells, 555 13th Street, NW, Washington, DC 20004 (Metro Center)
Venue:
This venue is fully handicap accessible and our meals are designed to accommodate vegetarians.
The nearest metro station is Metro Center. Exit at 12th and F Street, NW. Your destination is the building named "Columbia Square" which will you see right in front of you as you exit the escalator.
There are several nearby parking garages including:
Columbia Square Parking Garage: 555 12th Street NW, Washington, DC 20004 (202) 637-8105

Parking Management: 600 13th Street NW, Washington, DC 20004 (202) 347-5469
When:
6:30PM - 8:30PM Thu 12 Sep 2019 ( Timezone: Eastern )

Where:
Hogan Lovells - room 13.202/203
444 13th Street, NW
Washington, DC 20004 USA
[ Get Directions ]