HE Kirsti Kauppi, The Ambassador of Finland, Has Invited Us!
Join fellow Harvard Club members for a special reception at the Embassy of Finland on Thursday, June 7
Agenda
6:30 - 6:45 pm Registration; Out of respect for the Embassy staff, please do not arrive before 6:15 PM
6:45 - 7:05 pm Talk by HE Kirsti Kauppi
7:05 - 7:30 pm Q&A and "Engagement" between the Ambassador and Harvard Club members
7:30 - 8:30 pm Reception
We are indebted to Harvard Club member Jouni Keravuori KSGEE '88 for his assistance in arranging this event.


Registration
This event is limited to Harvard Club members and their guests. Business attire is required. $45/person

Click here to buy tickets!!!
Please consider leaving your car at home as parking at this location across from the Vice President's residence on Massachusetts Avenue is extremely difficult.

Please do not telephone the Embassy of Finland regarding this event. For additional information, please call Caren Pauley, Executive Director of the Harvard Club, at 202-337-1300.

Biography of HE Kirsti Kauppi
Ms. Kirsti Kauppi became Ambassador of Finland to the United States in September 2015. Before that (2012-2015) she was Political Director (Director General for Political Affairs) at the Ministry for Foreign Affairs in Helsinki. In 2009-2012 Ambassador Kauppi served as Director General for Africa and the Middle East.

In 2005 she was appointed Ambassador of Finland to Austria and Permanent Representative to the UN-related international organizations located in Vienna. During her term in Vienna, Ambassador Kauppi also served for three years as the Finnish Governor in the IAEA Board of Governors, including vice-chair of the Board.

Ambassador Kauppi has also served in the Finnish Embassy in Berlin (2003-2005) as Deputy Chief of Mission (Minister). Her other foreign posts include Washington (1997-2000), the Finnish Permanent Mission to the EU in Brussels (1993-1997) and Bangkok (1989-92).

In 2001-2003 she was head of EU's Common Foreign and Security Policy coordination in the Ministry for Foreign Affairs in Helsinki. This was after serving two years (2000-2001) as advisor to the State Secretary.

In the beginning of her career in the Ministry for Foreign Affairs in 1983, Ambassador Kauppi worked primarily with development cooperation issues, including a two-year period (1985-86) in the International Labour Organization (ILO) in Geneva.

Ambassador Kauppi was born in 1957 in Oulu, Northern Finland. She studied in the Helsinki School of Economics and Business Administration and received her Master's degree in Economics in 1981. In 1983 she joined the Ministry for Foreign Affairs of Finland where she has made her professional career since then.
Ambassador Kauppi is, in addition to her native Finnish, fluent in English, Swedish, German and French. She is an avid reader of history and enjoys walking and bicycle riding in her free time.

Embassy of Finland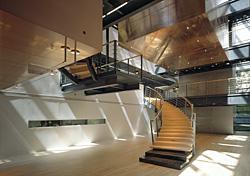 The Finnish Embassy, located across from the Vice President's residence on Massachusetts Avenue in Washington D.C., captures the spirit of Finland. Its materials are both age-old and contemporary, its design is as new as a cottage in the woods. It is a memory bank, a treasure chest of the essence of Finnish culture without the triteness of stereotypes.

The embassy has been embraced by the Washington DC community not only as a Finnish cultural center, but also as a host and venue of choice for functions and events that benefit the entire community and widen the contacts between the embassy and American society. In 2008, the building was the first embassy in the United States to receive the Environmental Protection Agency's ENERGY STAR for superior energy efficiency. In January 2010, the building became the first embassy in the United States to be awarded the U.S. Green Building Council's prestigious Leadership in Energy and Environmental Design (LEED) certificate for green buildings.

The architects created a multi-purpose space for both large and small receptions, for sit-down dinners and buffets, for concerts and art exhibitions. The building is equipped with perfect acoustics, needed when recording music performances, and state-of- the-art audiovisual facilities for showing movies, and connecting with Finland live on video conferences.

Modest, reserved and quiet, the building is a lot like the people it represents: underneath its polite exterior is a sophisticated and passionate soul. The embassy is a refreshing exercise in understatement with a combination of boldness, self-confidence and simplicity.
Click here to buy tickets!!!
When:
Thursday, 06/7/18 at 6:30pm - 8:30pm | iCal
Where:
The Embassy of Finland
3301 Massachusetts Ave NW
Washington, DC 20008 USA
[ Get Directions ]
Enter Waitlist Here...