HE Gerónimo Gutiérrez, The Mexican Ambassador, has invited us to the Mexican Cultural Institute
Thursday, March 22nd from 6:30 pm to 8:30 pm
We wish to thank María Aurelia Morales Gelain, Chief of Protocol at the Embassy of Mexico, Alberto Fierro, Executive Director of the Mexican Cultural Institute, and Harvard Club Board member Todd Theringer for their efforts in arranging this event.

Agenda
6:30 - 6:45 pm Registration; Out of respect for the Embassy staff, please do not arrive before 6:15 PM
6:45 - 7:05 pm Talk by HE Gerónimo Gutiérrez
7:05 - 7:30 pm Q&A and "Engagement" between the Ambassador and Harvard Club members
7:30 - 8:30 pm Dinner Reception


Registration
This event is limited to Harvard Club members and their guests. Business attire is required. $45/person
Please do not telephone the Embassy of Mexico or the Mexican Cultural Institute regarding this event. For additional information, please call Caren Pauley, Executive Director of the Harvard Club, at 202-337-1300.
Click here to buy tickets!!!
Mexican Cultural Institute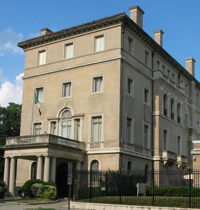 The Mexican Cultural Institute of Washington, D.C. was recently designated as an Historic Site in the DC inventory of Historic Sites and listed in the National Register of Historic Places! Such commendation speaks to the century-long heritage of our 16th street mansion, whose murals and decorations are on display to the public.
Listing in the D.C. Inventory of Historic Sites provides recognition of properties significant to the historic and aesthetic heritage of the nation's capital. The Mexican Cultural Institute was chosen not only as a premier example of the
Beaux Arts
architectural tradition with historic interior artwork, but also for its association with the rise of Meridian Hill as the home to foreign embassies, and its exemplary illustration of the City Beautiful Movement, which sought to promote beautiful architecture beyond Washington's monumental core.
Ambassador Gutiérrez Biography
The President of Mexico, Enrique Peña Nieto named Gerónimo Gutiérrez Ambassador of Mexico to the United States on January 13th, 2017, and after his ratification by the Mexican Senate on February 23rd, he took possession of the embassy on March 2nd of the same year.

Gerónimo Gutiérrez Fernandez served as Managing Director of the North American Development Bank (NADB) headquartered in San Antonio, Texas, where his professional activity was focused on infrastructure development and financing along the U.S.-Mexico border. Under his leadership—centered on strategic planning, business development and project management—NADB grew its loan portfolio at an average annual rate of 32%, reaching US$1.4 billion in 2016, and placed several successful bond issues in the U.S. and European markets, while maintaining a strong financial position and AA credit ratings.

With a diverse 15-year career in the Mexican federal government, Gutierrez previously served in prominent positions in the areas of trade, finance, diplomacy and national security under four presidents. In 2009 and 2010, he served as Deputy Secretary for Governance and Homeland Security, where his main responsibilities were identifying threats to the country's democratic governance and national security, and coordinating prevention and response measures. He was also part of the National Security Council's Executive Committee.

From 2006 to 2009, he served as Under Secretary for Latin America and the Caribbean in the Secretaría de Relaciones Exteriores (State Department). In that capacity, Gutierrez was responsible for normalizing the Mexico-Cuba relationship following a period of strained relations, including the signing of agreements on migration and economic cooperation, as well as the re-establishment of ambassadors with Venezuela. He led Mexico's negotiations with Mesoamerican countries (Mexico to Colombia) for the creation of the Mesoamerican Project (Proyecto Mesoamerica), a multilateral cooperation mechanism for the development of regional infrastructure. Also, he actively worked, along with other government agencies, on strengthening security and anti-narcotics cooperation with several Latin American and Caribbean countries.

As Under Secretary for North America, from 2003 to 2006, he coordinated day-to-day trilateral and bilateral affairs with Mexico's North American partners (United States and Canada) and supervised the operations of over 50 Mexican consular offices in the region. He led negotiations for the creation of the Security and Prosperity Partnership for North America (SPP)—a prelude to the present day North American Leaders Summit—and also worked closely with other agencies on border and regional security cooperation with the U.S. and Canada.

Gutierrez has also held other federal government positions as Under Secretary of Governance in the Secretaría de Gobernación (Interior Ministry), Secretaría de Economía (Commerce Department), Secretaría de Hacienda y Crédito Público (Treasury Department), the Office of the President, and Banobras (Mexico's national public works bank).

On the political front, he worked as part of President-elect Vicente Fox's transition team; as Director of the Miguel Estrada Iturbide Foundation, the think-tank wing of Mexico's center-right party, PAN (Partido Acción Nacional); and as Chief of Staff of the party's Parliamentary Group.

Gutierrez holds both a B.A. in Economics and a B.A. in Political Science from the Instituto Tecnológico Autónomo de México (ITAM) and a Master's in Public Administration from Harvard's John F. Kennedy School of Government, for which he received a Fulbright-Garcia Robles Scholarship.

He has contributed editorials to several Mexican and U.S. newspapers and magazines, and also participates regularly as a keynote speaker in conferences related to U.S.-Mexico relations, border affairs and international business
This venue is ADA compliant. There is a wooden ramp on the side of the building that can be approached from the front entrance allowing a person to enter through a side door and then take the elevator.
If you wish to avail yourself of this facility, Please inform the Harvard Club in advance so that we can station someone at the side door.
Click here to buy tickets!!!
When:
Thursday, 03/22/18 at 6:30pm - 8:30pm | iCal
Where:
The Mexican Cultural Institute
2829 16th Street, NW
Washington, DC 20009 USA
[ Get Directions ]
Enter Waitlist Here...