Climate Change and Business: A Dinner and Distinguished Panel Discussion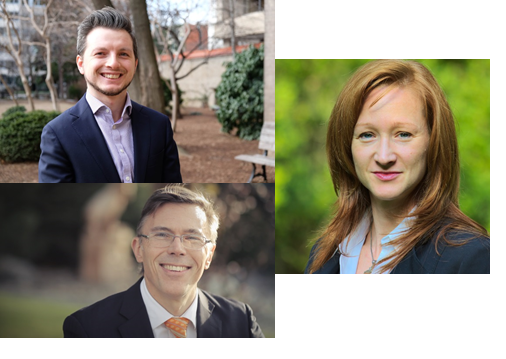 Climate change will undoubtedly be one of humanity's most pressing challenges in the coming decades and have important implications for business strategy and companies. During this dinner event, we will explore the impact of climate change on businesses as well as the importance of the Paris climate agreement with a panel of distinguished experts: Thomas Kerr (Principal Climate Policy Officer at the International Finance Corporation-World Bank Group), Anthony Mansell (Director of Policy and Research at Climate Advisers) and Kim Smaczniak (staff attorney at the environmental law firm Earthjustice). The panel will be moderated by Dr. Sanjay Patnaik who received his doctoral degree from Harvard Business School and is an expert on business strategy and climate change.

Please join us on Monday, Oct 23, 2017 from 6:30 pm - 8:30 pm
New Harvard Grad/Recent Grad members and their guests: $36
All other members and their guests: $40
Non-members: $60
MENU
Arugula and Pear Salad - Baby arugula, endive, poached pears, crumbled goat cheese and candied walnuts, served with honey mustard or raspberry vinaigrette
Classic Chicken- sautéed chicken breast served with a light sherry and sun-dried tomato cream sauce
Jumbo lobster ravioli with shrimp scampi sauce
Paella-style saffron rice pilaf
Brussels sprouts with caramelized onion
Housemade hand pies with seasonal fruit filling
Sorry - Registration has Been Closed
Tom Kerr (bottom left) is the Principal Climate Policy Officer at the International Finance Corporation, the largest private sector development bank in the world and part of the World Bank Group. In this role, he oversees IFC's efforts to expand climate-smart investment while incorporating climate risk into its operations. This involves thought leadership in identifying and defining new climate investment opportunities, engaging with clients to track and report on impact via high-quality greenhouse gas accounting and climate finance tracking, and developing risk screening methods like the use of internal carbon pricing. Mr. Kerr also directs the World Bank Group's Carbon Pricing Leadership Coalition, launched at COP21 in Paris to work with leading governments, businesses and civil society groups to accelerate the uptake of effective carbon pricing policy around the world. Prior to working at the World Bank Group, Mr. Kerr was Director of Climate Change at the World Economic Forum, where he managed the global climate issue agenda by facilitating high-level dialogues between leaders in government, business and civil society at the Annual Meeting in Davos, at the G20 and other intergovernmental platforms. Before that, Tom worked for the International Energy Agency, where he led the development of a suite of clean energy technology roadmaps and provided clean energy progress reports into the Clean Energy Ministerial, the G8/G20 and the UNFCCC. He started his career in Washington at the US Environmental Protection Agency, designing and implementing a suite of voluntary programs for the US government (Energy STAR, methane recovery, green power, Climate Leaders) to engage early business action on climate change.

Anthony Mansell (top left) is Director of Policy and Research at Climate Advisers, where he focuses on international climate policy, the role of carbon markets, and aviation. Anthony was previously International Fellow at the Center for Climate and Energy Solutions (C2ES), one of the world's leading environmental policy think tanks. At C2ES, Anthony specialized in international carbon markets and climate finance. He also helped deliver the Toward 2015 Dialogue, an award-winning series of conversations with chief climate negotiators to discuss the substance of the Paris Agreement. From 2011 to 2014, Anthony was Deputy Director of the International Emissions Trading Association, representing over 150 companies to promote the use of carbon markets to reduce emissions cost-efficiently. In particular, Anthony led IETA's work on forestry and land-use, aviation, and engagement on California's Cap-and-Trade Program, and served as editor of IETA's annual publication, Greenhouse Gas Market.

Kim Smaczniak (right) is a Clean Energy staff attorney with the public interest environmental law firm Earthjustice, where she leads its legal advocacy to ensure a fair playing field for clean energy in federally-regulated electricity markets. In addition to her work at Earthjustice, Kim is an adjunct professor, teaching a Clean Air Act course at University of Maryland Law School and a course on federal policymaking for Carnegie Mellon University's D.C. semester abroad program. Kim is a member of the Green Growth Knowledge Platform Research Committee on Green Growth and the Law, contributing to a study of the ways rule of law creates an enabling environment for green growth. She is also the former chair of the American Bar Association's (ABA) International Environmental Law Committee, and currently chairs that Committee's rule of law initiatives. Most recently, Kim successfully led an initiative to adopt a new ABA policy urging all countries to ban lead paint, and is helping to coordinate ABA efforts to implement the new policy.

When:
Monday, 10/23/17 at 6:30pm - 8:30pm | iCal
Where:
Hogan Lovells
555 13th St NW 13th Floor
Washington, DC 20004
[ Get Directions ]
Enter Waitlist Here...