A Dinner Conversation with Christine Mascolo, Associate Director of Admissions, Harvard College
With nearly 40,000 applicants to Harvard College this year, how does the Admissions Committee manage the task of assembling Harvard's freshman class?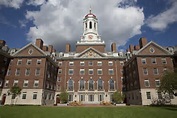 Christine will discuss her experience as an Admissions Officer at Harvard College and provide insight on a wide range of topics related to college admissions generally and at Harvard specifically, including why the number of applicants increased so much and how the Admissions Committee manages the process of selecting the 5% of applicants for admission.

Christine has been in admissions at Harvard for nearly fifteen years. During that time, she has held various roles, from Liaison to the Department of Athletics to the Director of Transfer Admissions, logging many miles across the US – from Wyoming to Washington – recruiting students for Harvard. She holds an A.B in English Language and Literature from Harvard and a M.Ed in Policy and Management from Harvard's Graduate School of Education.

Members and their Guests: $45 / Non-Members: $65. Ticket includes full dinner.
MENU
BBQ Salmon
Mango Chutney Chicken
Tri-Color Orzo with Quinoa Sautéed kale with roasted sweet potatoes and dried cranberries
Grilled Veggie Skewers
Mixed Green Salad
Fresh fruit and homemade cookies
Click here to buy tickets!!!
When:
Wednesday, 05/31/17 at 6:30pm - 8:30pm | iCal
Where:
Hogan Lovells
555 13th Street, NW
Washington, DC 20004 USA
[ Get Directions ]
Enter Waitlist Here...