Nigerian and West African Cooking Class with Chef Julia Offiong of Calbra Classics followed by Dinner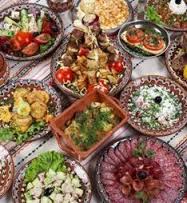 The chefs at Calbra Classics place heavy emphasis on Nigerian and West African cuisine that is hearty as well as healthy. In addition to a menu that features savory and rich coconut rice and other flavorful dishes, a small group of students learn how to create authentic meals, sampling their results along the way.

Afterward, students will be given the recipes they used in class so they can replicate them at home. The special menu created for members of the Harvard Club will be limited to vegetarian and seafood specialities, although vegetarians can be accommodated as well. You can participate in the preparation and cooking as much or as little as you like and then we will enjoy a full dinner together with non-alcoholic wine.


Calbra Classics Nigerian & West African Cooking Class
Harvard Club Washington, DC
Event Menu
West African Carrot Salad
Stewed Fish Steak (Fried tasty marinated fish cutlet served in savory tomato sauce)
Blanched Spinach (Blanched spinach served with flavorful savory onion, tomato garlic, ginger, and peppered sauce)
Coconut Rice (A mouth-watering Nigerian rice meal cooked in coconut milk and broth with shrimp)
Fried Ripe Plantain
Coconut Cake (pre-baked)

$60-members and their guests
$85-nonmembers

Refunds of any kind are no longer possible. If you find that you can not attend an event, please find a substitute or consider all fees paid as a charitable donation to the Harvard Club of Washington, DC. Your cooperation in this regard would be appreciated.
When:
Saturday, 04/22/17 at 6:00pm - 9:00pm | iCal
Where:
Calbra Classes
7621 Rickenbacher Drive Suite #600A
Gaithersburg, MD 20879 USA
[ Get Directions ]
Enter Waitlist Here...